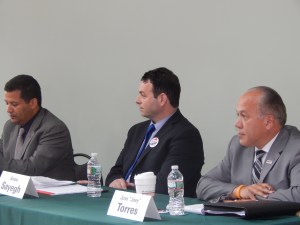 Paterson – With less than two weeks to go, their biggest debate behind them, and the first mailer of the season on the streets clubbing former Mayor Jose "Joey" Torres, the mayoral candidate struck back today in an interview with PolitickerNJ.
Torres claimed victory in the debate last night – a seven-hour donnybrook broadcast on Channel 77.
"Absolutely. If any candidate gave straight forward answers without sugar coating, I did," Torres said.
The former mayor (2002-2010) called the mail piece unleashed by the Sayegh Campaign a ludicrous, out-of-context attack that reveals more about his Council President rival than it does about Torres.
"The piece of course was very misleading. The issue was ironically targeting hotspots a few years ago and it completely falsifies the intent of what I said," Torres said. "The other bit about trying to make it look like I'm soft on drug addition – what I said was we cannot incarcerate ourselves out of drug addiction.
"The piece makes no sense," said Torres, "but it's no surprise because it's coming from someone who is taking acting lessons, a totally orchestrated candidate. He's an actor and he's a phony, just like the piece of mail that his campaign put out for him. This is not about talent, it's about treasures. This is about professional services sought, not governance for the people."
Torres said the entire establishment Democratic Party effort to ram Sayegh into City Hall boils down to business.
He lingered on Passaic County Democratic Chairman John Currie.
"This is about a fake Democratic chairman who wants control of this city," said Torres. "Paterson supports the rest of the county with the highest contributions to Passaic. We are the ones who feed and fuel Passaic County. So this race, this effort of theirs to take control of the city, is not about Andre. This is about people like the senate president and other mayors around the state intent on professional services and opportunities for the best strategists money can buy, at the beck and call of a county chairman, who is now the state Democratic Party chairman."
Torres said he's on track to win, and he's putting his head down now and headed for May 13th.
He sees Sayegh as a propped up instrument of power who still lacks raw votes on the ground – the same way he did four years ago.
"In 2010, the vote disparity between Andre and me was 4,000. Paterson voters won't lose their vote for someone who doesn't have a chance to win," the former mayor said. "This is a person with no experience crafting a budget, no experience managing people – a moving target. We're going to stay aggressively engaged and the only poll that concerns us is the people's poll on Election Day."