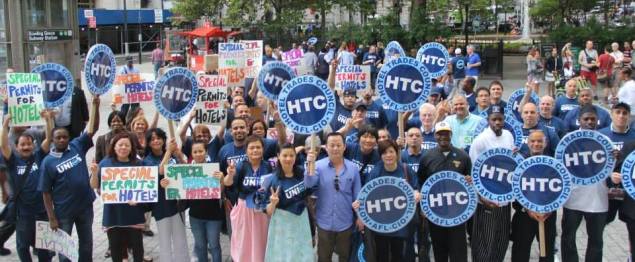 The Hotel Trades Council is throwing its support behind two candidates for open Assembly seats in the Bronx.
Attorney LaToya Joyner, running to replace now-Councilwoman Vanessa Gibson, and Marsha Michaels, looking to fill the seat of disgraced ex-Assemblyman Eric Stevenson, have both scored the backing of HTC, an influential union that represents hotel workers.
"It is critically important for New York's working families to have strong advocates in the State Capitol," Josh Gold, the political director of the HTC, said in a statement to the Observer. "On important issues that our members care about, from education to labor rights, LaToya Joyner and Marsha Michaels will be voices for hardworking New York families."
While the HTC backed several unsuccessful candidates last year, including mayoral contender Christine Quinn and public advocate hopeful Daniel Squadron, the politically-active union is known as a powerful player that can tilt local races with an aggressive get-out-the-vote operation. Mr. Gold's clout is also growing; earlier this year, he spearheaded Mayor Bill de Blasio's efforts to win funding for his universal pre-kindergarten plan in Albany.
Both candidates, sources say, are favorites to win the coveted backing of the Bronx Democratic Party. Ms. Joyner, who is running for the Highbridge-based seat, once interned for Bronx Deputy Borough President Aurelia Greene, Ms. Gibson's predecessor in the Assembly. And Ms. Michaels, seeking the Morrisania-based seat, reportedly curried the favor of the Bronx county machine by helping several county-favored civil court judges get elected.
Both seats are open for the taking. Ms. Gibson left her Highbridge post to run successfully for the City Council, while Mr. Stevenson was forced out of office after being convicted on corruption charges in January. The contests for both seat are expected to attract numerous candidates in addition to the pair.