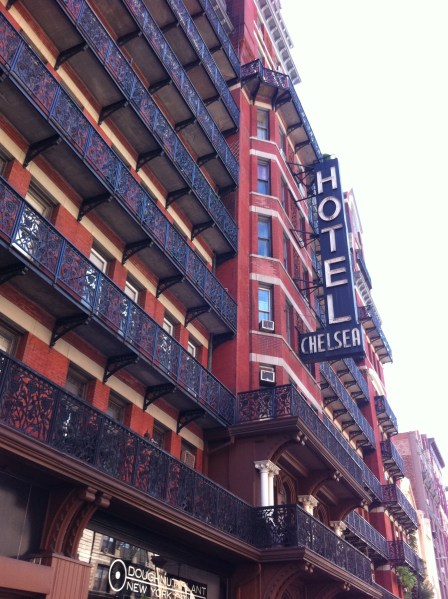 When Ed Scheetz took over the magnificent and magnificently-troubled Hotel Chelsea last year, buying back the fabled red-brick building and four other properties from Joseph Chetrit, his former partner in hotel group King & Grove, it seemed a potentially Pyrrhic victory.
The Hotel Chelsea came with as much magnetism and natural charisma as any hotelier could ever hope for. But it also came with rent-controlled tenants who would remain in the building during the extensive renovation it needed. It was, moreover, a beloved New York institution famed for harboring penurious bohemians—not exactly an entrepreneur's dream clientele—whose next incarnation was as likely to be scorned as embraced, no matter how much Mr. Scheetz tried to remain true to the building's spirit.
But with the hotel's re-opening still a year and a half off—renovations are expected to finish in November 2015—Mr. Scheetz is clearly determined to make the most of his crown jewel by rebranding his hotel group the Chelsea Hotels. The portfolio is currently comprised of King & Grove Williamsburg, Ruschmeyer's in Montauk, the once and future Martha Washington Hotel (a.k.a. King & Grove New York), a hotel project on Lafayette Street and, of course, the Chelsea.
"When I split with my former partner last year, I really wanted to develop a brand that spoke to the key values of the company," Mr. Scheetz told the Observer in a phone interview yesterday. "I felt that using the Chelsea name would be the easiest and most effective way to communicate to our guests and other important constituencies what we were about."
And what would that be?
"Creativity and shared experiences," he said. "The Hotel Chelsea was effectively set up as a utopian community and it catered to the creative class, but it welcomed all people to come and experience it. We want to create a place where everyone is welcome."
When we pressed Mr. Scheetz on how an upscale hotel in the heart of gentrified New York would manage to maintain Bohemian bonafides, he said that he plans to introduce a full complement of cultural programming, reinstate the famous lobby art and host artist-in-residency programs that would allow younger artists working in a variety of mediums to call the hotel home for a period of months. And there are, too, the long-term tenants who will remain in rent-regulated units.
There will also be diverse price points and rooms that would appeal to "a wide variety of people, from young people to wealthy people, celebrities, overseas travelers and as importantly, if not more importantly, New Yorkers." For example, a diminutive artists' loft that went for $200 a night would be situated side-by-side with $800 suites, he said, encouraging people to mix in the halls as well as in the bar and restaurant.
"We think that New Yorkers are interested in tradition and connections with history, even if they don't know what the traditions are, per se. So much of New York is disappearing," he continued. "There's a call for tradition even if those things are modernized. The Chelsea has this rich tradition that we're building on— that's a unique asset that's very hard to come by—and making it into a modern environment with great food, a modern restauranteur, a great bar."
And indeed, the patronage of real New Yorkers is arguably the critical factor in transforming a hotel into a beloved institution like the Carlyle or the Plaza rather than simply a characterless sleeping chamber. Of course, if the ratio of natives shifts too far off, a once-popular destination could turn into a has-been.
Was Mr. Scheetz worried, we asked, about getting the Chelsea right?
"I worry about it every single day, every single meeting," he confessed. "I don't want to do a Disneyland thing or a Hard Rock version of Chelsea. I think we spend and continue to spend a lot of time trying to focus on getting the Chelsea right. We're respectful of the people and what they've created. There will be an active emphasis on creativity and artists in residency; we really want it to be a gathering place for the creative class. It never probably will be like what it once was, but it can be true to life spirit and still have air conditioning and plumbing that works."
"Will everyone like everything we do. No? Will most people appreciate what we do? Yes," he said. "For me the key is really the spiritual aspects of the Chelsea."
As for other hotels in the brand, Mr. Scheetz said that he wasn't trying to force the Chelsea's history onto those properties. "We're not trying to make every hotel like the Chelsea, but the core values will be the same."
And the new brand has at least one fan in the person of Zoe Pappas, the head of the Hotel Chelsea tenants' association, who said that she was delighted by the news of Mr. Scheetz's rebranding.
"I think that it's wonderful, the Chelsea is a name with very important historic resonance," Ms. Pappas gushed. "I think that he wanted to make a statement that he's very committed to the Hotel. It's not a repetition of the Hotel Chelsea, it's an homage."