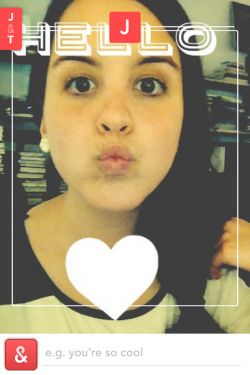 A little over a year ago, singles' dating site HowAboutWe expanded to include a dating service for couples, their mission to help couples keep the romance alive after they find love. Today, they're carrying on that mission with the launch of You&Me, a special messaging app for people in relationships.
You and your partner can download You&Me, and then each log on to your shared account. From there, you can send each other a ton of fun media, including written messages, customizable photos, videos, songs, and even Snapchat-esque "secret" images. As you communicate, the app catalogues all your interactions into a series of beautifully designed streams — kind of like a multimedia scrapbook of you and your partners' relationship.
"Love should be enhanced by technology, not depleted by it," HowAboutWe cofounder Aaron Schildkrout told Betabeat. "Many [couples] use texting, some use other messaging apps, [but] none of these apps are truly and beautifully designed in a way that honors the importance of your conversation with the person you love."
You&Me has an seemingly endless list of fancy features, as I discovered when my boyfriend and I tested it out ourselves. I liked how the app let me do more than just send basic selfies; once I took a photo of myself, I could choose from a number of filters, and superimpose fancy-looking text and graphics over the original image.
The app also has a really expansive music library, and let me bombard my boyfriend with Lorde songs to my heart's content.
What's also cool is that You&Me uses GPS to sense when you and your partner are physically near each other; when you take photos of yourselves, the app will automatically tag them as "together." Mr. Schildkrout said that in the future, You&Me will start sending users surprise monthly photo albums of all their "together" shots.
All that was nice, but when it comes to smartphone messaging, let's be honest: any messaging app is only as good as its sexting capabilities.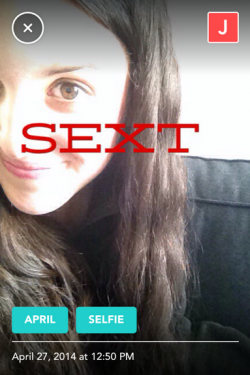 To my delight, I discovered You&Me gives you an option to share "secret" photos with your partner. When you share a photo using the app's "secret" feature, the photo appears as a blurry image on your partner's phone — almost as if the photo is obscured by digital steam. Your partner can use their finger to "de-fog" the image and reveal its contents; after a few seconds, the image fogs up again. It's kind of like using Snapchat, except your girlfriend's mirror shots won't get sucked into obscurity after seven seconds.
"It's kind of a fun, private way of sharing photos," Mr. Schildkrout said. "It makes the app sexier, and I think that matters."
Plus, the app's "secret" feature helps avoid the embarrassment of opening an ordinary text message in the presence of your friends, only to discover it's a graphic dick pic from your bf.
"We wanted to completely avoid that awkwardness, and create a really private intimate space for the couple to say what they want to say," Mr. Schildkrout said.
Using You&Me became a little addictive, to the point that we questioned whether the app contradicted HowAboutWe's whole raison d'être of getting romance offline and into the real world. Mr. Schildkrout denied the claim, explaining that You&Me would soon integrate itself with HowAboutWe for Couples, allowing couples to book IRL dates through the app. He also thinks the app should be used to celebrate all the fun things couples do in the physical world.
"The app helps couples to document the wonderful experience they have together, and that's aligned with the HowAboutWe ethos of love happening through great experiences," he said. "It's an amazing vacation app — you're on vacation together, you're documenting the experience together — it totally makes sense to have it work that way."