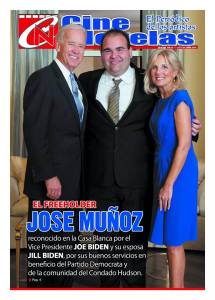 WEST NEW YORK – It progresses somehow, this toxic Hudson County freeholder race that started with the Dukes of Hazzard optics of Mayor Felix Roque in white-suited Boss Hogg splendor at the head of the public with his commissioners gathered around and, in one specific case, very volubly peeling off.
When Commissioner Count Wiley did a Dog Day Afternoon impression at the microphone in 2012, fed up at last with his old ally Roque, he left then-town counsel Gil Garcia closing his briefcase at the end of the meeting, appalled that he could have attended law school to somehow end up in a verbal rundown in North Hudson with some guy named Count.
Wiley's irritation with Roque spilled out in public ahead of the public dimensions of an underground war.
The FBI got involved on tips supplied by Hudson County Freeholder Jose Munoz, who swung and missed in an eventual 2013 computer hacking trial against Roque, leaving the 2014 re-energized mayor now to take down Munoz or risk his nemesis resurfacing locally yet again in time for next year's mayor's race.
Iced by the Hudson County Democratic Organization (HCDO) as part of the deal they struck with Roque, Munoz in self-preservation mode is running arguably the most animated race anti-establishment campaign in recent memory.
"They're attacking me from all sides," Munoz told PolitickerNJ as he clings to office. "I told them, 'You've got to make up your mind. I'm either a Tea Party member or a communist – I can't be both."
They've tried both, and in return Munoz says he's mortgaged his own house in an attempt to keep a steady supply of mail firing back at the opposition.
"I'm throwing everything into this race," he said. "I'm putting my own money into this."
He's on the ground in his hometown pounding on doors with a work rate that has the wood paneled operatives in HCDO world slightly sweating.
A source told PolitickerNJ today that Roque – in an effort to chop up Munoz prior to Tuesday – is reaching out to Wiley, the old friend turned bitter foe turned potential political opportunist as long as both Wiley and Munoz want to run against Roque in 2015.
They can't both run without sawing into each other and re-electing the incumbent.
The Roque disaffected Wiley has been the biggest local visual Munoz has had at his side on the campaign trail.
Now, playing on the mutual ambitions of his adversaries and trying to bring in a foe in order to defeat his dreaded enemy, the mayor wants to smother that alliance six days ahead of the election.
"I haven't even thought about that," Munoz told PolitickerNJ when asked if he had ruled out a run for mayor next year. "It's ridiculous for me to even talk about a mayoral election. I will say this, Caridad, when she decided to run for freeholder, told me if I stayed out of the race she would support me for mayor next year."
Munoz said he obviously opted out of her offer.
Now Commissioner Caridad Rodriguez – the former assemblywoman from the 33rd District – is his establishment-backed opponent in Tuesday's Democratic Primary.
It couldn't ugly.
That happened in 2012 when Wiley melted down at that microphone and later, when Roque's defense attorney screamed at the jury with Munoz on the witness stand, "We have a freeholder from Hudson County who doesn't know what the word trust is."
Now it's straight up gruesome.
Pablo Fonseca, Rodriguez's campaign manager, went to the incumbent and told him he had a choice.
"You google me and you see the words 'street fight' come up," Fonseca reportedly told Munoz.
Munoz got the message.
Fonseca didn't mind going there if necessary, wherever there was on the next stage of devolution past grotesque.
Munoz put together some positive images this week of himself with Vice Presidential Joe Biden and Jill Biden.
"I was invited to the vice presidential mansion at the end of last year," said the freeholder. "They're coming with all these lies about me. I'm a Tea Party member; I'm a communist, and here I am in his house, in his living room. When they invite you to their place they make sure you're clean as a whistle. I was clean enough to sit in his living room."
Rather than dredge up the bad blood between Munoz and Roque in a public campaign forum, Fonseca is keeping the focus as much as possible on Rodriguez and her connection with popular U.S. Rep. Albio Sires (D-8), who's on the ballot Tuesday.
"Pablo is doing a great job," Roque told PolitickerNJ. "The people cannot be fooled by the smoke and mirrors of Munoz's campaign. For the third straight year we have had zero tax increases, and in his case we have never seen anything positive.
"We're doing great," the mayor added. "Look, it was a learning curve, as I was coming from a nonpolitical career, but I'm very proud of what we're doing right now."
Insiders say Munoz's effort in West New York is so well coordinated and aggressive that they fear an anti-establishment indentation at the heart of the freeholder district, even if they continue to express optimism about the Weehawken and Gutenberg portions bailing the HCDO out of a county level loss.
What it means for Roque next year, however, with Wiley still unattended to in a possible logjam for the mayor's seat and Munoz threatening, is, like the rest of it, murky.