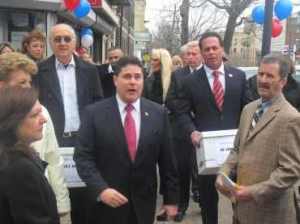 A furious West New York Commisisoner Count Wiley doubled down on his endorsement of anti-establishment Hudson County Freeholder Jose Munoz in Tuesday's Democratic Primary.
"I ask Mayor Roque and the Rodriguez/Roque campaign to stop the lies and this shameful charade in an attempt to fool the voters," said Wiley, who affirmed his decision to oppose incumbent Mayor Felix Roque in next year's local election.
Roque backs Commisisoner Caridad Rodriguez against Munoz.
"The people of West New York know better and they deserve better," Wiley said. "That is why I am supporting Jose Munoz for Freeholder. Jose deserves to win because he stood up against the Hudson County Political Machine and Mayor Roque. The Wiley team, along with Freeholder Munoz helped bring needed reform to our educational community by soundly defeating Mayor Roque and Commissioner Caridad Rodriguez in the election to have an elected school board in the town of West New York. Mayor Roque and Commissioner Caridad Rodriguez fought against us to preserve their kingdom and jobs for their family members. Disgraceful actions for both elected officials."
Wiley once staunchly backed Roque.
That relationship fell apart soon after both men obtained public offfice.
"To the great people of West New York, I am running for Mayor in May of 2015 against Roque if he chooses to run, and anyone else," Wiley added. "I pledge to bring honesty, integrity, and good government back to West New York."