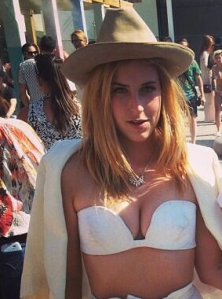 Scouting for topless women has never been easier.
Bruce Willis' daughter let it all hang out as she strutted through Manhattan yesterday, sniffing flowers and working what her mama (Demi Moore) gave her.
Ms. Willis titillating stroll was a protest against Instagram's nudity policy. Under the app's Community Guidelines, Ms. Willis' account was deleted because she posted a pic of a sweatshirt with two topless ladies.
Thus, she did what any self-righteous celebrity child would do: post tit pics on Twitter. (Or should we say 'Titter'?)
Scout posted this picture of her naked streak on twitter with the caption: "What @instagram won't let you see #FreeTheNipple."
And another nudie pic of her gently caressing flowers, stating, "Legal in NYC but not on @Instagram."
She racked up quite an overwhelmingly positive response from followers, but not before making empty threats. "I'm moving to Europe, people's victorian sensibilities need to calm the f*ck down," she tweeted.
@Scout_Willis please don't do that. We like you just where you are.