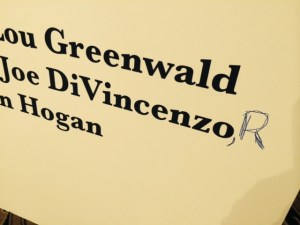 ATLANTIC CITY – When the members of the New Jersey Democratic State Committee gathered in Atlantic City at their annual conference late last week, their cry might have been "avengers assemble."
Garden State Democrats have reason to feel somewhat like superheroes after last week. Republican Gov. Chris Christie remains embroiled in the Bridgegate scandal. State and federal investigations continue into last year's George Washington Bridge access lane closures, while Christie still apparently harbors presidential ambitions.
Speeches on Friday night from U.S. Sen. Bob Menendez (D-NJ), U.S. Sen. Cory Booker and U.S. Rep. Frank Pallone (D-6) drove home the traditional Democratic rallying points of fighting for the working-class and the middle-class, defending liberal social values and advocating for diversity.
Ras Baraka's victory in Tuesday's Newark mayoral election, helped in large part by critical infusions of campaign cash and get-out-the-vote troops from labor unions, led organized labor to believe that it was once again a formidable force in New Jersey politics.
But indications that internal rifts, always political Kryptonite for Jersey Dems, have yet to be healed were also evident. Attendees could literally see signs of strife written on placards welcoming them to events at the Sheraton Hotel.
A vivid example of turbulence in the Democratic ranks was graffiti scrawled on one sign welcoming conference-goers to a cocktail party held before Friday night's main events.
One of the sponsors of the cocktail party was Essex County Executive Joe DiVincenzo, the most visible Democratic defector to Christie's side during the governor's re-election campaign. DiVincenzo was not present at the event.
An individual who was at the party scribbled in a comma, then a large letter R for Republican, next to DiVincenzo's name.
"I don't know how this guy thinks he's going to win a Democratic primary next time," said a conference attendee who requested anonymity, referring to the currently unchallenged DiVincenzo's potential re-election bid in 2018.
Phil Alagia, DiVincenzo's chief of staff, deferred comment on his way into a meeting with county officials.
Another sign of interesting times within the New Jersey Democratic Party occurred Friday afternoon immediately before the mayor's luncheon.
Listed among the sponsors of the event were both Jersey City Mayor Steve Fulop and State Senate President Steve Sweeney (D-3).
Yet at the event, Sweeney was present, while Fulop was not.
Fulop and Sweeney stood on opposite sides on the recently completed battle of Newark, which concluded with Baraka literally storming City Hall after he defeated rival Shavar Jeffries.
Fulop endorsed Baraka in February, as did former Governor and current State Senator Richard Codey (D-27). Sweeney endorsed no candidate in the Newark mayoral election but said he believed that there was "momentum" behind Jeffries towards the end of the campaign.
PolitickerNJ.com previously reported that several Democratic sources indicated that Jeffries conversed with DiVincenzo and with allies of South Jersey Democratic power broker George Norcross III regarding his political future. These sit-downs suggested an alliance between North and South Jersey to ensure Jeffries' victory, which proved unsuccessful.
DiVincenzo endorsed Jeffries the day before the election.
Norcross is also a close ally of Sweeney, the potential South Jersey blocker of the gubernatorial ambitions of North Jersey's Fulop.
Democratic sources told PolitickerNJ.com that at a county chairman's dinner on Thursday night that was attended by both Sweeney and Fulop, Sweeney expressed displeasure that he would share the bill with Fulop at Friday's mayor's luncheon, where both men were scheduled to speak.
"I was with him last night, and we were joking," Sweeney told PolitickerNJ.com on Friday after his speech at the mayor's luncheon, during which he said that bringing back the "millionaire's tax," which imposed higher taxes on New Jersey's wealthier residents, as a way to help fix an $800 million state budget deficit was definitely "on the table."
"I gave him a little dig about the 30-pound dumbbells," added Sweeney, an ironworker by trade, referring to his recent Tweet that poked fun at Fulop's appearance on a local magazine cover working out at the gym. "[Fulop] said that he should have known better when they put 30-pound dumbbells in front of him.
"He had a party I guess, so maybe he was out late. That's possible, too," continued Sweeney, expanding on why he believed Fulop was not present at Friday's mayor's luncheon. "He's a young guy. He's 37. I'm 54, going to be 55."
"I would have loved to stay the entire time at the conference as [Democratic State] Chairman [John] Currie did a great job, but I had to get back to Jersey City [on Thursday night] as [Friday] we announced with the [state] Economic Development Authority approximately 5000 jobs being moved and created in Jersey City from JP Morgan and the Royal Bank of Canada," Fulop told PolitickerNJ.com in response to Sweeney's comments. "We continue to be an economic engine for the state, and [it was] a big day for the city."
State Senate Majority Leader Loretta Weinberg (D-37) told PolitickerNJ.com that the New Jersey Democratic Party has room for all of its members, whatever sniping occurs in the party's back rooms, particularly in the context of recent events in Newark.
"There are some differences in the party that have to do with things that are not actually the issues," Weinberg said. "Steve Sweeney didn't play any part in the Newark mayoral election, none at all. There's a new mayor in Newark, the biggest city in the state. The people who live there are important, and they are important to the viability of New Jersey. How we are going to be able to balance this budget affects how we are going to help the people of Newark. We are all on the same page."