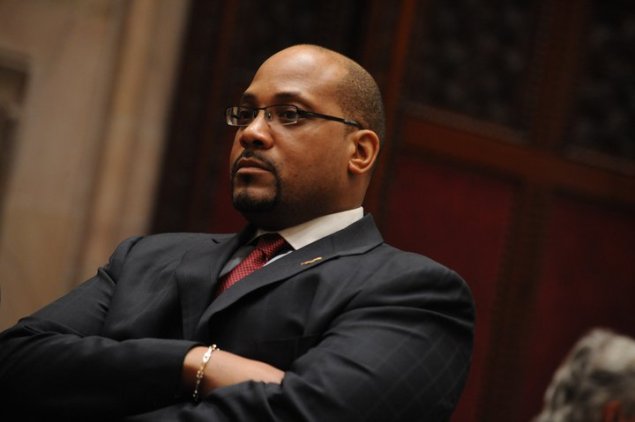 State Senator John Sampson, who has been indicted twice on corruption charges, is planning to seek re-election nonetheless, two sources familiar with his decision-making told the Observer Tuesday.
Mr. Sampson, a Brooklyn lawmaker and the senate's former majority leader, is already facing several strong opponents in the eastern Brooklyn district he has long represented. But that hasn't stopped him from pressing forward.
"He's running and circulating petitions," one Brooklyn Democratic source said of Mr. Sampson. A second source confirmed Mr. Sampson's intentions to run.
Mr. Sampson's office did not immediately return a request for comment.
Mr. Sampson was first indicted in 2013 and then again earlier this year on charges including embezzling money from foreclosure sales and then lying about the crime to FBI agents. He has pleaded not guilty to all charges.
The former Democratic power broker will now face a desperate fight for his political life beyond a looming trial. His campaign account is deep in debt thanks to mounting legal bills, and a Working Families Party-backed challenger, Dell Smitherman, is consolidating labor support and is said by observers to be a favorite in the race.
He has also been expelled from the Democratic caucus, greatly diminishing his clout in Albany.
Working in Mr. Sampson's favor, at least for now, however, is the tacit support of the Brooklyn Democratic Party. While other indicted elected officials, like Queens State Senator Malcolm Smith, face concerted challenges from their party establishments, Mr. Sampson is close to party brass and isn't expected to be asked to step aside.
In addition to Mr. Smitherman, Mr. Sampson is facing challenges from former City Council candidates Sean Henry and Leon Miles.