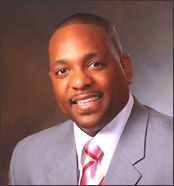 In Newark's West Ward, veteran Councilman Ronald C. Rice circulates in support of the Ras Baraka GOTV effort.
An unsuccessful off-the-line candidate for Congress in 2012, Rice wanted to run for mayor himself this year, but backed Baraka following candidates' forums with African-American elders and other city leaders.
He's got a beef with the Essex County Democratic Party establishment, contained focused as he toils for his mayoral candidate from the city's South Ward.
Sources say Baraka needs strong turnout in the South and West to win the mayoral contest today.
Rice's establishment-backed conqueror from two years ago, U.S. Rep. Donald Payne (D-10), labors on behalf of Baraka adversary Shavar Jeffries.
Rice sees a Baraka victory today – between six and eight points, he says, even as Jeffries allies point to momentum in the polls undertaken by an independent expenditure group backing Jeffries' candidacy.
Rice has seen a comfortable single-digit victory for Baraka for some time now and as he goes from polling site to polling site in his ward, "Nothing I have seen so far tempers that prediction.
"But it's early," he added. "Big machines will start at about 3 since senior building voters are pretty much done. It's slow and steady, no explosion. We know where the votes are and how to get them out. There's nothing the other side can do. We don't do a lot of hoopla in West. Our voters are steady, tight-lipped and don't engage in large theatrics seen in other wards. We will solidly add to Baraka and teams' numbers and we will do it without rancor."