Cable Tie Pin Unit 8, $795, www.flat128.com
Cable Tie Earring Unit 3, $975, www.flat128.com
Cable Tie Bracelet Unit 2, $575, www.flat128.com
Hard, yes. Cold, no.
Designer Cristina Gabriele pours her 'heart' into a clever collection of hardware-inspired jewelry.
Heart and Noble, as her brand is warmly called, patterns men's and women's accessories after cable ties. Threaded, looped, recast in sterling silver then plated with gold, the bangles ($575), tie pins ($795) and earrings ($975) recently launched at an intimate reception at Flat 128 in the West Village. Appointed with periwinkle interiors, Union Jack carrés and veiled fascinators, the boutique is a tiny piece of Notting Hill right on Christopher Street—a cosmic homecoming for the London transplant.
Last spring, the UK-reared Italian American flew to the city for two days of meetings with potential buyers, when she decided to postpone her flight back so she could explore the city. But by her third week, the then 26-year-old gave up her flat in England, signed the lease on a set of digs in Nolita and was soon trotting around the style scene. Come fall, Bill Cunningham snapped a photo of her at Fashion Week. Wearing a spacey neon shift dress and a slick bob, she accessorized with a necklace of her own design: a chunky wreath of golden teardrops.
"It's gestalt-y," she described her work to the Observer, one spring afternoon at the New Museum Café on Bowery. Dressed in a black frock and a leather sweatshirt, paired with a neon Miu Miu purse, she bit into a peanut butter macaron, flashing two saw-toothed metal rings on her right hand. The industrial-inclined aesthete started designing when she was a little girl in South London, where she loved to tag along with her mom to run errands.
"I would pull her into our local hardware store to explore and rummage," she says.
At first, she took home kitchen-sink washers to turn into pendants. By her early twenties, she started experimenting with plastic zip ties, best known for bundling pesky computer wires. She thought of taking one cable tie and winding a series of others along its length, as if making knots on a friendship bracelet. The unit became the base of an eponymous Cable Tie Collection, ranging from a high of $6000 for a giant bib to a low of $350 for modest cufflinks, which she planned to sell in boutiques.
Within a month of shopping around her wares, Wolf and Badger, a high-end boutique in Notting Hill and Dover Street, picked up her collection and exposed it to a clientele of chichi thirtysomethings and fashionable corporate types.
When she moved to New York, she sought to establish not only a new client base, but also a professional network. At the start of the year, she enlisted in a "fashion incubator" called Manufacture NY, a hive of currently 14 entrepreneurs striving to turn their craft into a commercial success. Without studios of their own, space being scarce in the city, they come to Manufacture's Midtown space, steps away from the cheap dress shops and gaudy jewelry wholesalers on West 36th Street. At 2000 square feet, the workspace is about the size of a modest apartment, cluttered with sewing machines, spools of thread, cork-topped pattern tables and murals of nest-haired muses on the walls.
For $400 a month, Gabriele gets full access to the workspace, its materials and a stable of industry consultants.
"There's our CFO who went to Wharton, our CEO who has more than ten years of experience in luxury companies including her own, our branding guru who is also a thespian, and a soon-to-be lawyer who is a fountain of knowledge."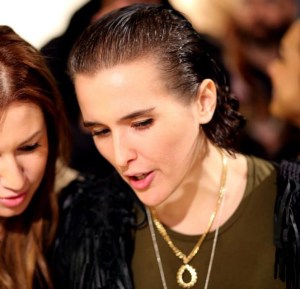 The "incubator members" all lack something in their business, whether it's funds or knowledge, explains Seth Friederman, director of designer relations at Manufacture.
"They do not have the capacity to create the structures and generate the breaks that they need to survive," he told the Observer. "What we do is support and mentor them by giving them the knowledge and connections they need."
As testament, they even mounted a runway show during Fashion Week attended by the press and shop owners. The support system seems to be working for Ms. Gabriele, who swanned around as best she could in the packed confines of Flat 128 on the night of her launch. (Because of the turnout, a second trunk show will take place there on June 5th.)
Around her in the Anglophilic space, guests gingerly lifted velvet-lined display cases while clinking champagne flutes, not teacups, with their free hands.
"It's incredibly exciting," Ms. Gabriele said of her first outlet in New York. "Not only is the boutique immaculate in its curation, it has a real soul, a real identity."