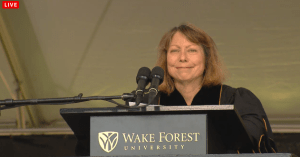 On a sunny day in North Carolina, ousted New York Times executive editor Jill Abramson spoke publicly for the first time sinceTimes publisher Arthur Sulzberger announced her departure last Wednesday.
Since then, Ms. Abramson's firing has reached the level of major news story. She was already scheduled to give the commencement address Wake Forrest University, a liberal arts school in Winston-Salem, but since Ms. Abramson has been silent since Wednesday, the graduation became a media event. And the media was out in full force on Monday morning.
"My only reluctance in showing up today was that the small media circus following me would detract from your many accomplishments," Ms. Abramson told the graduates during her speech.
"Media thick at Wake Forest: N.Y. Times. WSJ, Reuters, WaPo, POLITICO, Melissa Harris-Perry here for MSNBC," tweeted Politico media reporter Dylan Byers two hours before the ceremony began.
Ms. Abramson's recent ouster was addressed head on by Bloomberg View columnist Al Hunt, who introduced her.
"It is said she can be tough, no-nonsense, even pushy," Mr. Hunt said. "That's what makes a great editor."
"I think the only real news here today is your graduation," Ms. Abramson began.
"I'm impressed that your achievements have attracted so much media, as well they should," she continued, to laughter.
Ms. Abramson told the crowd that her sister called her on Thursday to tell her that their father would have been as proud of her as the day that she was appointed executive editor.
"I'd been fired the previous day, so I knew what she was talking about," Ms. Abramson said.
Ms. Abramson went on to mention her journalistic heroes, the fact that the Times website is blocked in China, and the book she wrote about Anita Hill (who, Ms. Abramson said, sent her a note of support last week).
Ms. Abramson recounted that a student the previous night asked her if she was going to get that Times 'T' logo tattoo on her back removed. "Not a chance," she said.
And sporting tattoos isn't the only thing that Ms. Abramson said she has in common with the 2014 grads.
"What's next for me? I don't know. So I'm in exactly the same boat as many of you," Ms. Abramson said, to applause. "And like you, I'm a little scared but mostly excited."