Joe Lhota, last year's Republican mayoral contender, is paying it back.
After John Cahill, the Republican now running for attorney general, fund-raised for Mr. Lhota's Gracie Mansion bid in 2013, Mr. Lhota is now making fund-raising appeals on behalf of Mr. Cahill.
"I'm not one to beat around the bush so I will get right to it: I am supporting John Cahill for Attorney General and I think you should, too," Mr. Lhota declared in an e-mail to Cahill backers.
"The incumbent is raising money hand over fist to defend his seat and John needs our immediate help to win this race. His campaign is still in its early weeks but it's already resonating with voters who know the incumbent isn't putting New York first," he said.
Mr. Cahill is the former chief of staff to Republican Gov. George Pataki. Mr. Lhota, a deputy mayor in the Republican Giuliani administration, said he bonded with Mr. Cahill after both had to handle the fallout of the September 11 attacks.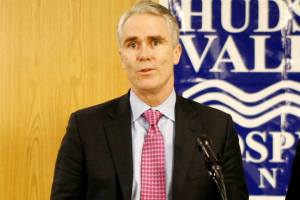 "We worked together on rebuilding efforts in Lower Manhattan after the September 11th terror attacks and I always found John to be well-prepared and cool under pressure," Mr. Lhota said. "He never cared who got the credit as long as the job got done."
Mr. Lhota ran an aggressive race against Mayor Bill de Blasio last fall but lost in a historic landslide. Mr. Cahill also faces a tremendous uphill battle against Attorney General Eric Schneiderman, a Democrat running with the full support of the political establishment and a growing war chest.
Though Mr. Schneiderman rarely comments publicly on the race, at least so far, campaign surrogates have been slamming Mr. Cahill for his right-leaning social views. Council Speaker Melissa Mark-Viverito led a press conference blasting Mr. Cahill and State Senator Brad Hoylman, along with Assemblywoman Deborah Glick, trashed Mr. Cahill yesterday for appearing with a former Yonkers mayor who has opposed same-sex marriage.