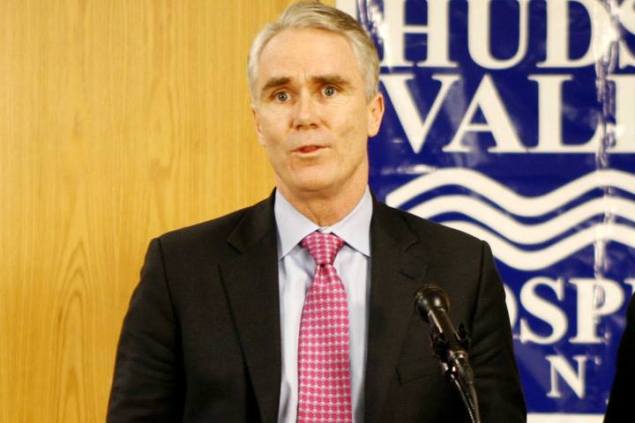 Attorney General Eric Schneiderman officially has a challenger.
Republican John Cahill, the former chief of staff to ex-Gov. George Pataki, formally kicked off his bid to be the state's top lawyer in Yonkers this afternoon, accusing Democrats of turning the position into that of "Aspiring Governor," and promising to use the post to defend charter schools and champion hydrofracking.
Speaking in his hometown on Mother's Day, Mr. Cahill lamented what he described as a deep frustration and resentment with state government
"As I speak with people throughout this great State these days, it's clear that the optimism which was so prevalent in my mother's generation has, in subsequent generations, been replaced by distrust, anger and resentment," he said, according to his prepared remarks. "Far too many New Yorkers believe they don't get a fair chance.'
"Whether it's the wolves of Wall Street or big government on State Street, no one seems to be interested in the concerns of regular New Yorkers … No one hears their voice. No one defends them. No one is their advocate," he added. "I am running for Attorney General to be the strong voice for all of New York, an advocate that our citizens deserve, and that justice demands."
Despite several brief nods to bipartisanship, Mr. Cahill went on to hit his opponent, Mr. Schneiderman, as well as Mr. Schneiderman's Democratic predecessor, now-Gov. Andrew Cuomo, for allegedly relegating the office "to little more than a political stepping stone to the Governor's Mansion."
"Recently here in New York we have seen the A.G serve not as the Attorney General but rather as the 'Aspiring Governor.' We see that this leads to decisions based on the special interests, political interests and self-interests of the Attorney general rather than what is in the best interests of the  people of New York. That must end and as Attorney General I will end it," he vowed.
"Voters, parents, taxpayers, businesses large and small will have confidence that the AG's office only interest is to make the people's case, not to build a political career. As Attorney General I will be both a public prosecutor and the public's defender," he added.
Mr. Cahill went on to hit critics of charter schools for limiting parents' choices, and vowed to fight on their behalf.
"Education is the civil rights issue of our time and we have a moral obligation to see that  all of our children have access to a great school–whether it's a district school, charter  school–which is public too–parochial or private school. It is time to stop empowering bloated education bureaucracies and start empowering  parents and students," he said, pointing to the high demand for charter school slots in the city.
"Children in central Brooklyn and Buffalo ought to have the same shot as those on the Upper West Side. The academic future of a child cannot be predetermined by the  zip code where they live. We recently witnessed renewed assaults on charter schools … The A.G has not only the standing but the obligation to stand up for the children of our state," he added. "Governor Cuomo says he's the student's lobbyist. That's great but what NY students need is good lawyer–I will be their lawyer."
Mr. Cahill also reiterated his support of the New York Dream Act, which would provide in-state tuition to the children of undocumented immigrants, and touted the benefits of hydraulic fracturing–or hydrofracking–a controversial method of extracting natural gas that many Republicans argue would be a crucial job booster despite concerns over the environmental impact.
"When you look at the science and place the interests and prosperity of New Yorkers first, it is clear that the question on shale gas isn't 'if,' it's 'how,'" said Mr. Cahill, the former commissioner of the Department of Environmental Conservation.
"New Yorkers have faced enough obstacles to prosperity and progress; the State Attorney General shouldn't be one of them," he added.
Mr. Cahill faces an uphill battle against Mr. Schneiderman, a popular former state senator with deep fund-raising wells, whose office last week drew headlines for the arrest of City Councilman Ruben Wills. Still, Mr. Cahill will have the benefit of an anti-Schneiderman Super PAC, Communities for a Fair New York.
"Whether it's going after fraudulent financial practices, prosecuting more than 40 people in public corruption cases, or helping keep 25,000 families from losing their homes, Attorney General Schneiderman has spent his entire career working to ensure equal justice under the law for all New Yorkers," a spokesman for Mr. Schneiderman said in a statement. "He looks forward to talking about his record with voters in the coming months."
Updated at 12:49 p.m. with a statement from Mr. Schneiderman.