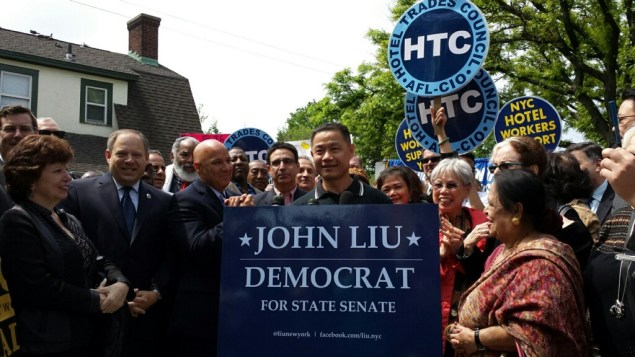 The last time John Liu launched a political campaign, it was on the steps of City Hall, nearly a thousand delirious supporters trying to shove their way inside the gates to see the populist mayoral contender.
More than a year later, Mr. Liu stood in front of a Bayside, Queens train station, the crowds drastically reduced. But as Mr. Liu, a former city comptroller, kicked off his bid against State Senator Tony Avella today, his enthusiasm for returning to public life was not diminished.
"The people here rightfully demand and deserve effective, results-oriented representation," declared the former city comptroller, clad in a local high school's polo shirt rather than his usual jacket and tie. "In the State Senate, I will fight tirelessly for a real minimum wage, for the rights of working people, for true women's equality and for public schools, transportation and health care."
Mr. Liu's campaign for mayor last year crumbled in the face of a fund-raising scandal. The scars of that scandal, at least in the eyes of Mr. Liu and his supporters, appeared to have healed.
"As state senator, I'll be a leader, not shy of advancing cutting edge programs and proposals which may not yet have become cliché," Mr. Liu added. "And as state senator, I'll be a collaborator, one who works closely with my colleagues in the senate and other parts of government."
Mr. Liu did not name Mr. Avella, a longtime representative in the City Council and State Senate in eastern Queens, during his remarks, but the "collaborator" comment appeared to be a veiled dig at Mr. Avella–who further alienated an already-weary Democratic establishment when he joined a breakaway faction of Democrats who govern the State Senate in a power-sharing deal with Republicans.
Entering to chants of "John Liu! John Liu!" Mr. Liu said his aim would be to return Democrats to the majority in the senate and break Republican control.
"Obviously there have been a lot of grumblings and complaints from elected officials including the many we have who have seen the obstruction in the State Senate and what would term to be the betrayal of a small number of Democrats," Mr. Liu told reporters.
"It's the Republicans who are driving the agenda in the New York State Senate. It's why we don't have a full set of equality measures passed for the women of New York. It's why we don't have a real minimum wage set. It's why we don't have campaign finance yet," he continued.
Though the sheer scale of his campaign launch paled in comparison to his mayoral kick off in 2013, Mr. Liu is running with more establishment support this time around. Many Queens elected officials and top deputies in the Queens Democratic machine attended the event, though the only person who spoke other than Mr. Liu was a longtime community board member and civic leader, Chuck Apelian.
The presence of multiple Queens civic leaders, who tend to play an outsized role in the political machinations of the suburban district, appeared to underscore that Mr. Liu is running against Mr. Avella with grassroots support and not just at the behest of party brass and labor unions.
The race is expected to be one of the season's most competitive. Mr. Avella remains popular in the predominately white and moderate-leaning district; a sizable portion of Mr. Liu's Asian-American base also lies beyond the area. But with the potential for a strong fund-raising push and a concerted labor effort, Mr. Liu could knock off Mr. Avella
Mr. Liu, who had also flirted with a run for Congress, first considered the senate bid after Queens Democrats approached him following Mr. Avella's defection to the Independent Democratic Conference in February, sources say. He had been teaching business classes at Baruch College and maintained a public schedule, attending civic and party events.
At least some Democrats have speculated that Mr. Liu is hoping to parlay a successful campaign this fall into another viable shot at Gracie Mansion down the road. When the Observer asked Mr. Liu if he would ever run for mayor again, the former comptroller–and his supporters–laughed.
"I am proudly declaring my candidacy for New York State Senate," Mr. Liu said, refusing to answer the question.
In a statement in response to Mr. Liu's big, Mr. Avella said he was running with the support of the district–not "Queens party bosses" or "political insiders."