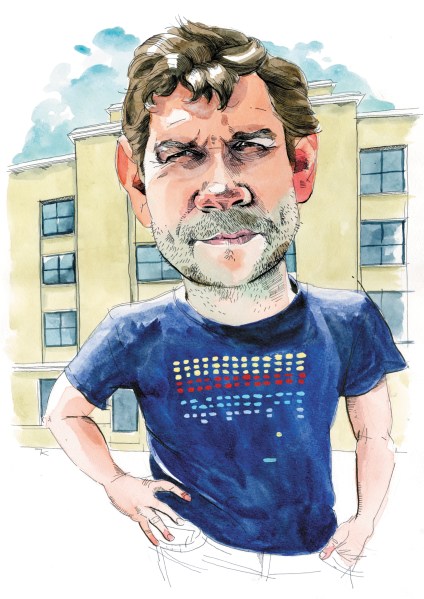 Jonathan Butler's Brooklyn empire includes Brownstoner, the real estate blog he founded in 2004, along with Brooklyn Flea and Smorgasburg, both of which he co-founded with Eric Demby. Most recently, Mr. Butler led a group of investors, including Goldman Sachs, in renovating a Studebaker factory in Crown Heights. His recently opened 1000 Dean, a 150,000-square-foot commercial space, is emerging as a Dumbo alternative for creatives.
How is 1000 Dean going? So far, around 25 spaces have been leased, a nice cross-section of creative Brooklyn businesses. We had some bad luck with the ground-floor space, which we rented to 3rd Ward before it went belly up. I would love to see a tenant do some kind of public-facing component, whether it's co-working, education or making stuff. I wouldn't want a storage company there.
Bloggers love to declare Brooklyn over. Is there anything to it? Brooklyn is clearly getting less affordable, but the more mobile creative class is going to keep finding places to go. It's hard to say Bushwick or Sunset Park is over. It's just that the lag time for when developers show up is shorter.
Manhattan is chain stores and yogurt shops everywhere. Is that fate inevitable for Brooklyn? Even though a lot of bigger real estate players have been getting to Brooklyn, the smart ones realize that if you just put in a bunch of chain stores, you're killing the thing that attracts people. There is a smaller scale and a sense of intimacy in Brooklyn.
Brooklyn is the land of artisanal broken dreams. What is your advice to the locally grown quinoa milk bottlers of the world? One of the keys to being an entrepreneur is minimizing your risk. Keep your day job as long as you can so you don't wind up on the street if people don't like your idea. For the first couple of years of Brownstoner, I was at Merrill Lynch. All I wanted was to quit, but I decided to wait one more year. By the time I did quit, I had a lot more information about whether it was successful and could be monetized.
What is the future of Brooklyn the brand? Ten years from now, I don't think people will be putting Brooklyn in the name of their businesses, but I don't see any reason it's going to become a less desirable place to live and visit.
Suppose I'm visiting Brooklyn for a day. Where should I go, other than the Brooklyn Flea and Smorgasburg? I often get calls from friends of my parents asking where to eat. One of my two favorite restaurants is Locanda Vini e Olii in Fort Greene. When we moved to Brooklyn in 2003, we rented a house from Andrew Tarlow and his partner, Mark, who back then just owned Diner in Williamsburg. That's my other favorite.