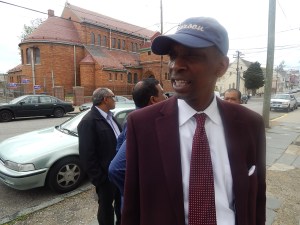 As political forces associated with the ruling County Democratic Party overrun his city with BlackBerries and Andre Sayegh signs, incumbent Mayor Jeff Jones went into counter attack mode this afternoon at City Hall, calling out the county for holding Paterson hostage.
Tax exemptions for properties owned by the County of Passaic located in the city of Paterson have resulted in an "absolutely unfair burden" placed on city tax payers, said the mayor, who's rush-delivering a property tax invoice to the Passaic County Board of Freeholders to "highlight the inequity of the system."
"I understand the need for tax exemption for public properties, but in this case Paterson is being harmed by the constant outflow of money to the county with nothing in return," said Jones said, adding, "all of the office holders at the county, state and federal level are aware of this problem and no one has done anything to help.
"We have a number of candidates talking about the financial situation the city is in, and most don't seem to have any idea what reality is and others have forgotten," he added.
The county, in fact, is attempting to drive Jones out of office by championing Council President Andre Sayegh.
Jones says it's bogus.
Passaic County has at least 66 tax exempt properties in the City of Paterson which are for use of everyone in the county, he pointed out. These properties are assessed at $202,456,000. At Paterson's current tax rate, if these properties were taxable, the city would have received more than $5,733,000 in property taxes in 2014 alone and more than $28,500,00 during the past five years.
Paterson has to supply police and fire protection, snow removal, utilities, road repair and other services to all these buildings and in return, "What do we get?' asked Jones. 'What we get is a tax bill from the county in the amount of $45,012,404.85 for 2013 plus an open space assessment of $691,059.97 for which we get virtually nothing in return."
Forced to contribute $7,947,903 to the open space fund for Passaic County, Paterson has received $2,271,000 back or a loss of $5,676,903.
"We would have been better off buying property with our own money," said the mayor, adding "We could have created a number of significant recreation opportunities with the extra $5.6 million. What we have is Paterson, with one of the lowest household incomes in the county at $30,157 helping towns with almost three times the household income buy open space.
"The situation with Passaic County demonstrates how Paterson is forced to supply services but is deprived of income to pay for these services. If Passaic County paid its fair share, we would not be so reliant on state subsidies."