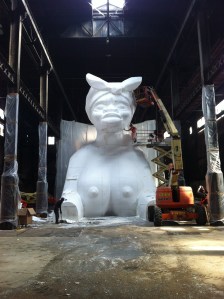 Public art installations come and go. The transience of such works—projects like Thomas Hirschhorn's Gramsci Monument in the Bronx or the flashy site-specific sculptures that pop up like perennials in Madison Square Park—fuels their energy and their urgency. The impermanence of these pieces is what makes us look at them harder, knowing that they'll soon be gone. It's rare, though, that the entire setting of a public artwork is also doomed to disappear. 
This is the case with artist Kara Walker's first public installation, a monumental polystyrene sphinx covered in snowy white sugar, which opens May 10 in one of the defunct Domino Sugar refinery's titanic halls. Although Two Trees Management Co., the site's developer, has not set a date for that section of the Williamsburg plant to be torn down, demolition of other parts of the waterfront factory began last year. While some Domino buildings are landmarked, most will make way for a park, school and hyaline towers soaring up to 55 stories high. About 700 of the total 2,300 units will be reserved for low- and moderate-income residents.
In the tradition of giving her work anachronistic, overwrought titles, Ms. Walker has christened the piece, commissioned by Creative Time, A Subtlety or The Marvelous Sugar Baby, an Homage to the unpaid and overworked Artisans who have refined our Sweet tastes from the cane fields to the Kitchens of the New World on the Occasion of the demolition of the Domino Sugar Refining Plant.
As the subtitle suggests, the fate of the factory is an integral part of the installation. "It makes me very sad, actually," said Ms. Walker, standing in the vast former raw sugar warehouse, of its impending demolition. "It's so deeply embedded with meaning, and to just bulldoze that for the next phase of development is inevitable but it's tragic."
"It's a complicated issue," said Philippe Vergne, the recently appointed director of Los Angeles's Museum of Contemporary Art, who curated Ms. Walker's first retrospective at the Walker Art Center in Minneapolis in 2007. "It's the same issue that I think MoMA is facing with the Folk Art Museum. You know, how much of our history should we physically keep?"
Today, "preserving" a building usually entails little more than leaving the exterior intact, as the facades of Tribeca's gut-rehabbed loft buildings and what's left of St. Vincent's hospital can attest. Even when the skin of a structure is left standing, its soul can disappear in an interior welter of stainless steel fixtures and frosted glass accents.
It's a murky issue, as Anne Pasternak, the president and artistic director of Creative Time, recently acknowledged at the Brooklyn Museum's annual gala.
"Our whole history as an organization is to use sites of transition," she told Gallerist. "We know this is going to be a problem for people and that they're going to be examining our ethics."
Creative Time recently pushed a dialogue on the issue of gentrification, commissioning essays from David Byrne and Moby. At the same time, the organization was only able to offer Ms. Walker the factory because Jed Walentas, a principal at Two Trees, the development firm best known for building Dumbo's maze of luxury condos and office space, is cochairman of Creative Time's board.
When Creative Time approached Ms. Walker about doing a project last spring, she was "very much in a turn-everything-down mood," according to Nato Thompson, the organization's chief curator. "I've been learning to say no, and I got really good at it," Ms. Walker, 44, conceded with a laugh. The factory and its history seduced her, though. The yawning hall evokes a decrepit industrial cathedral. Several of the windowpanes are stained brown, and the patchwork of clear and tea-colored rectangles suggests the stained glass of a holy place in ruins.
"When you come early in the morning, you get light streaming through these windows in the most obnoxiously beautiful way," said Ms. Walker, pointing to the east. "It's just like phzhoom!" At noon, a skylight allows light to dramatically illuminate the sphinx's face from above, and in the evening, windows facing the river to the west project the sunset on her side.
The massive sculpture charges the room with contradictions. African-American facial features complicate the sphinx's sugary whiteness. Her pose is simultaneously submissive—back arching to expose enormous, sumptuously carved genitalia—and commanding. "She's possessing two modes of being at once, supplicant with the large butt, but also self-possessed and in control and offering a kind of gentle 'fuck you,'" said Ms. Walker, gazing appraisingly at her creation.
It's seems fitting that, for her first monumental sculpture, Ms. Walker would appropriate the world's oldest known example of one, an emblem of a lost civilization. But despite her use of anachronistic media and subject matter (she is best known for her paper silhouettes depicting scenes of plantation sex and violence) her work is as much about the present day as it is about antebellum America. "In my own life, in my own way of moving through the world, I have a hard time making a distinction between the past and the present," she told Observer. "Everything is kind of hitting me all at once."
This project immediately conjures the history of slavery and sugar production, but it also reaches farther back into the past, to the Middle Ages when sugar was only accessible to the wealthiest members of the nobility. "It's like the preamble, it's the thing that necessitated this desire for more sugar," and, consequently, she added, more slaves.
Elaborate sugar sculptures called subtleties would break up the courses comprising medieval feasts, sometimes accompanied by a narrative performance. In her research, Ms. Walker unearthed 16th- and 17th-century recipes for subtleties that explained how to fill, for instance, a sculpture of a stag with red wine such that it could be pierced at dinner.
To this day, we still participate in what Ms. Walker calls "ritualized sugar activities" such as wedding cakes and Valentine's Day candies. Everyday interactions with sugar connect us to its history. "I'm thinking about the shaking of the sugar packet to put into your coffee," said Ms. Walker. "It's like a habit that goes without much thought, but I think it's as potent as in Catholicism, you ingest the host."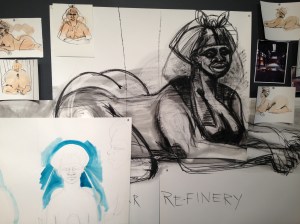 The Domino Sugar refinery has not stored sugar since 2004, when it ceased production, but the walls are still coated in sticky black molasses. When I visited in early April, Ms. Walker's workmen were power washing as much of the tacky tar-like substance off the floors as they could manage. The marketing of molasses, the dark byproduct of sugar refinement, is rife with "perky holdovers from slavery," Ms. Walker pointed out, in brand names like Plantation and Brer Rabbit. Another, Aunt Dinah, bears a label with a kerchiefed black woman, who partly inspired the sphinx's features.
It is unclear what will become of Ms. Walker's massive sphinx when the installation closes on July 6. It measures 75-and-a-half feet long, and while it can be dismantled into parts, the sheer size of individual pieces and their temperamental sugar coating still pose daunting storage problems. Ms. Walker said she would like to at least preserve the head, but even its future is uncertain.
"We fantasized about floating it out on to the East River," said Ms. Walker, "watching the tide turn it around and send it off to the ocean."
It's an image strong enough to make one forget the wrecking ball.