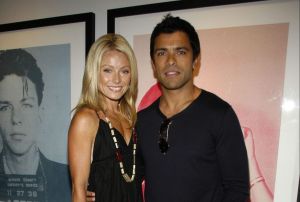 Poor Kelly Ripa and Mark Consuelos. No one wanted to buy their gorgeously-renovated penthouse at 76 Crosby Street for a whole year! More even. Surely, Ms. Ripa and Mr. Consuelos have spent much of their lives telling skeptical friends how difficult it is being beautiful, and now they have the real estate experience to prove it.
But we can all breathe a sigh of relief on the show biz pair's behalf. They've finally found a taker, and the apartment, last listed for $24.5 million with Adam Modlin of the Modlin Group and Douglas Elliman's Raphael De Niro, has entered contract. (In case you haven't noticed, reader, in the long run, things tend to work out pretty well for Kelly and Mark.)
Sources tell the Observer that despite the condo's many good qualities—an embarrassment of windows, nearly 7,000 square feet, 12-foot ceilings, marble, milled wood, Jacuzzi, yada yada yada—many potential buyers were put off by its layout. "Have you seen the floor plan?" one broker asked facetiously. The unit opens on the living room, which, despite many windows, has only eastern exposures, while southern sun was saved for the three children's bedrooms on the first floor.
"This was really more of a family apartment, and most families want to live in Tribeca or maybe the West Village, rather than right in the middle of Soho," the broker continued. "I know of some very high-net-worth individuals who went through there looking for, you know, like a real Soho pad." (Read: Slick bachelor spread.) "The upstairs was spectacular and the outdoor space is amazing." (All 3,000 plus square feet of it.) But, "you'd have to destroy the south end of the lower level."
There was also the matter of price, which remained stubbornly at the original asking figure for the last 14 months. As we hear it, however, word was passed some time ago among a conclave of high-end downtown brokers that although the sellers would not lower their public asking price, they would be willing to accept more modest bids. So vain, Ms. Ripa? Et tu, Mr. Consuelos? Shocking! The final price remains mysterious—as do the buyers—but we understand that the sale came at a considerable discount. And even if the new owners stay anonymous, that price has to hit city records eventually.
Truth, even of the most inconsequential kind, will out!