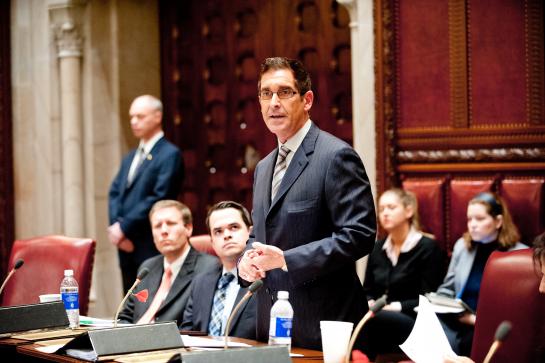 The Bronx political establishment is not going to help Oliver Koppell in his bid to unseat State Senator Jeff Klein.
That was made clear today, when Councilman Andrew Cohen, Mr. Koppell's protégé, and Assemblyman Jeffrey Dinowitz, who represents Mr. Koppell's Riverdale turf, announced they were throwing their support behind Mr. Klein.
"Jeff Klein has done a superb job representing our community as its State senator and I wholeheartedly endorse him for reelection," said Mr. Dinowitz in a statement. "We have worked closely together on all of the important issues in our community and on legislation in Albany."
Mr. Cohen, who succeeded Mr. Koppell in the City Council, also backed Mr. Klein.
"Not only has Senator Klein been a terrific advocate for our community, his effective leadership in Albany has benefited all New Yorkers," Mr. Cohen stated. "From enacting the toughest gun laws in the country and ensuring funding for universal pre-K to increasing the the minimum wage and successfully fighting for marriage equality, Jeff Klein has been a champion for all New Yorkers."
Mr. Koppell, a former councilman, launched a bid against Mr. Klein last week, and has attacked Mr. Klein for leading a coalition of breakaway Democrats who govern the State Senate in a power-sharing agreement with the Republican Party. Mr. Koppell has repeatedly accused Mr. Klein of betraying Democrats by entering into the coalition and stifling liberal legislation, but the Bronx Democratic Party and a long list of elected officials appear to disagree.
Mr. Koppell is running with the support of the Senate Democrats but has yet to roll out any big-name supporters. Mr. Klein has scored the backing of several unions already.
In an interview today, Mr. Koppell said he was disappointed Mr. Cohen and Mr. Dinowitz had endorsed Mr. Klein, describing the act as "a betrayal" of both him and fellow Democrats.
"I think it's unfortunate and I think they–like many other political people–made deals with Klein and this is the reflection of it. It's a betrayal of the Democrats who voted for them, frankly," Mr. Koppell told the Observer. "I believe he's betraying not only me, but the Democrats who voted for him."
Mr. Dinowitz took exception to Mr. Koppell's comments, calling out the former councilman for endorsing ex-Mayor Michael Bloomberg's re-election bid when he faced a Democrat in 2009.
"When the voters voted to re-elected me in 2012, not a single one made it a condition that I promise in the future to vote for Oliver Koppell should he decide to beat the term limits by running for yet another office," Mr. Dinowitz charged. "In addition, I have never, ever endorsed a Republican over a Democrat for any office at any time. Oliver on the other hand endorsed Mayor Bloomberg in 2009, the Republican candidate, and as a result of him getting elected to a third term, many progressive initiatives were stopped in their tracks."
Updated with comment from Mr. Dinowitz.