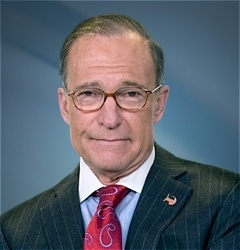 Former CNBC primetime host of The Kudlow Report, Larry Kudlow, is slated to host a New York funraiser to boost a Republican U.S. Senate hopeful.
Kudlow, a senior contributor at CNBC and radio show host, is co-hosting the fundraiser to support GOP hopeful Jeff Bell, who's locked in a Republican primary in the hopes of succeeding U.S. Sen. Cory Booker (D-N.J.) in Washington. Bell, who ran an unsuccessful 1978 campaign for U.S. Senate, will be discussing the nation's economy at his May 19 fundraiser.
"Larry Kudlow is one of the giants of supply-side economics," Bell said in a statement. "I'm grateful he is supporting my U.S. Senate campaign and will be at our fundraiser to talk about how to get the U.S. economy moving again."
Princeton Professor Robert P. George, Becket Fund for Religious Liberty President William Mumma, and Sean Fieler of Equinox Partners are also co-hosting the event.