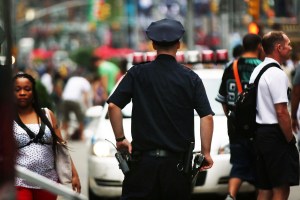 Call it the "Driving Miss Daisy" Day, thanks to NYPD.
The folks at the NYPD announced last night that it will be cracking down on drivers who aren't following the rules of the road. This citywide initiative addresses the cell phone/texting while driving issue and failure to yielding to pedestrians.
The statement released yesterday reads:
The NYPD reminds all New Yorkers that the use of a hand held cell phone and texting while driving a vehicle is illegal. Driving while operating, talking, or texting on a cell phone or other similar hand-held device is extremely dangerous and endangers the safety of both drivers and pedestrians. 
In addition, preserving the right of way for pedestrians is a primary focus of the NYPD's traffic safety mission. Motor vehicle operators are also reminded that yielding to pedestrians at intersections is paramount to the safety of all New Yorkers.
The first day of the initiative will begin midnight, Tuesday, May 13th, 2014 and will conclude 24 hours later. The second day of the initiative will begin midnight, Friday, May 16th, 2014 and will conclude 24 hours later. 
The NYPD strongly encourages safe driving and asks the public to use their seatbelts and use a hands free device when driving. 
The improper use of a cell phone will result in 5 points on your license and failure to yield to pedestrian will result in 3 points.
The NYPD has been busy as of late, marking this initiative one of its multiple projects. Last month, NYPD cracked down on the "It's Showtime!" guys, making nearly 100 arrests and charges against break dancers on the subways. And if you missed the memo, the NYPD is recruiting Muslim immigrants to serve as spies and informants.
Otherwise, let's take a moment to reminisce the woman who killed a delivery man and served no jail time. If we're lucky, she'll get a ticket today!