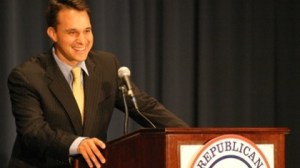 Gov. Chris Christie's chief political strategist Mike DuHaime was subpoenaed Wednesday by the legislative committee investigating the governor over the George Washington Bridge lane closures.
New Jersey lawmakers are demanding DuHaime, Christie's top political advisor, handover any documents related to the lane closings and any exchanges he has in his possession regarding Fort Lee Mayor Mark Sokolich. The committee also demanded information on any conversations he had with Christie, former campaign manager Bill Stepien and former Port Authority executive David Wildstein between Dec. 11 and 13, according to the subpoena.
"The subpoena is part of the committee's continued, bipartisan investigation into the lane closings and apparent abuse of government power," Democratic co-chairs Sen. Loretta Weinberg and Assemblyman John Wisniewski said in a joint statement. "The committee will follow the facts to get the truth so that the people of New Jersey get the answers they deserve."
He was given until May 19 to comply with the subpoena.
According to documents released in March, DuHaime, who has previously escaped scrutiny as members of Christie's administration have been hit with subpoenas, was included in discussions about the lane closure controversy.
was forwarded on a December email from a campaign worker asking how to respond to a media inquiry.
According to the documents, Matt Mowers, who worked in the Statehouse before transferring to Christie's re-election campaign, sent an email to DuHaime and former campaign manager Bill Stepien a month after the election.
Mowers sent the email after a Wall Street Journal reporter contacted him for comment on a story.
"Ted Mann from the WSJ just called asking about the GW Bridge because he had heard I was one of the individuals in the [governor's] office who would talk to the mayor of Fort Lee," Mowers wrote in an email to Stepien and Duhaime.
"I told him I would take down his number and get back to him later," Mowers wrote. "Not sure how you are handing or what handled. I don't plan to return his call on this unless you want me to."
Mowers was working for the New Hampshire Republican Party at the time he sent the email to Stepien and DuHaime.