As one opera season winds up, marketing for the next kicks into high gear: the Met in particular is promoting its 2014-2015 season, promising thrilling voices, magnificent melodies and sumptuous productions. They may be missing an angle calculated to appeal to the more adventurous attendee: opera as game of chance.
Think of it: you spend hundreds of dollars for tickets to hear a big star like Anna Netrebko or Jonas Kaufmann in L'elisir d'amore or Werther, and then, as performance time approaches, the suspense mounts: Will they sing? Will they cancel? And if they do cancel, what are the chances the substitute singer will turn out to be a superstar of the future, and you will have earned the bragging rights of hearing the new diva or divo before anyone else? With originally billed cast members returning to the Met's productions of I Puritani and La Cenerentola, it's worth considering these questions.
Quite often in the history of opera, what seems at first a loss turns out to be such a jackpot. The audience at the Paris Opéra-Comique on April 13, 1900 could not have been happy to hear that the star of the new hit opera, Charpentier's Louise, had suddenly taken ill halfway through the performance. And how they must have groaned to hear that the remainder of the opera would be sung by an American girl who was not even an official understudy, and who, in fact, had never sung professionally before. Yet five minutes into the third act, as Mary Garden finished the demanding aria "Depuis le jour," the French public realized they were present at a very special event: the birth of a star.
Another of the 20th century's greatest divas made a breakthrough jumping in for an ailing colleague. In 1949 in Venice, an obscure singer named Maria Callas was performing the role of Brünnhilde in Die Walküre, a sort of sideline to that season's main event, a gala production of Bellini's I Puritani starring the famous coloratura soprano Margherita Carosio. When the diva caught the flu, the conductor for both operas, Tullio Serafin, ordered Callas to learn Puritani in time for the premiere only six days hence.
This was a role for a very different sort of voice from the dramatic soprano Callas then considered herself. On top of that, in those six days she still had to sing three more performances of the five-hour Wagner epic. But Callas saw the opportunity in this long shot, and accepted, telling the venerable conductor, "Maestro, my best I can do. More than my best I cannot offer." Her best was more than enough: the first-night audience in Venice witnessed not only the launch of Callas's career but the genesis of the 20th century reexamination of bel canto opera.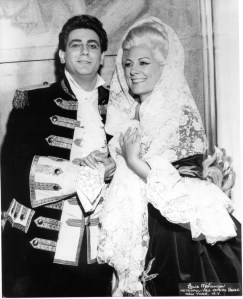 When Plácido Domingo made his Met debut in 1968, he didn't have Callas's "luxury" of a whole week of preparation, or even a whole day. On September 28, the tenor finished a long day of rehearsals for Turandot and then drove home to Teaneck, NJ. At 7:30 the phone rang: it was Rudolf Bing, the Met's general manager, announcing that temperamental star Franco Corelli had just called in sick, and that Mr. Domingo was to drive back to Lincoln Center as quickly as possible in order to sing in Adriana Lecouvreur opposite Renata Tebaldi. Less than an hour later, Mr. Domingo was onstage giving a performance for the history books, and only the most diehard Corelli fans could have felt cheated.
But it wouldn't be gambling if every substitution turned out to be the advent of a new Callas or Domingo. In 1982, Mr. Domingo dropped out of a performance of Ponchielli's La Gioconda at the Met after the first act. The company sent on an experienced tenor named Carlo Bini to finish out the role of Enzo, but he crapped out. First he biffed the high note in his aria, and then he lost his place in the music, by which time the audience was booing. Finally, when Mr. Bini made a clumsy attempt at embracing Mignon Dunn (who was playing his lover Laura), he accidentally groped the statuesque mezzo's breasts. The boos swelled to guffaws and catcalls, and conductor Giuseppe Patanè halted the performance to admonish the audience: "Have at least some respect for Ponchielli!"
Even if this was a disaster of a Gioconda, it made a great "you should have been there" anecdote.  These "all or nothing" nights don't happen very often, but every impromptu cast change does give the audience a new spin of the wheel. Just this past week, the entrance of missing cast members to Met productions offered a chance to add up wins and losses.
Baritone Mariusz Kwiecien, who was out of the first two performances of Puritani, gave Saturday afternoon's repeat a much-needed kick of electricity with his dark, exciting voice. A few scratches here and there and a ducked high note at the end of the second act duet "Suoni la tromba" suggested Mr. Kwiecien was still not 100%, but this is both the sort of major voice and star personality that this revival has so desperately needed. Even in less than perfect form, he easily overshadowed the timid performances of Olga Peretyatko, Lawrence Brownlee and Michele Pertusi in the three other leading roles, and utterly effaced the colorless Maksim Aniskin who filled in as Riccardo earlier in the run.
Rossini's La Cenerentola was a triumph on its first night for substitute tenor Javier Camarena, and in the next two performances went through the roof. In a rare breach of protocol at the Met, he was allowed to sing an encore of part of his second act aria each night, an honor previously accorded in recent years only to Luciano Pavarotti… and Juan Diego Flórez, the singer for whom Mr. Camarena was standing in.
Mr. Flórez joined the cast on Friday night for a performance as Don Ramiro as satisfyingly exhilarating as Mr. Camarena's, though for different reasons. Mr. Flórez tosses off the rapid-fire coloratura of the part with nonchalance, almost a shrug; Mr. Camarena sweats hard for every note, but impresses with his stamina and sheer beauty of tone. At the end of the aria, Mr. Flórez sang a rock-solid if hardly sensuous high C.  This roused the audience to an ovation, if not anything like the eruption that greeted Mr. Camarena's take on the same piece the week before, yet even this only moderately enthusiastic demonstration seemed sufficient to motivate an encore. So let's call this bet even money and declare everyone a winner.
As the season closes, the Met goes into what may be the highest-stake game of the past few decades, negotiations with the company's unions representing chorus, orchestra and stagehands.  With Peter Gelb asking for significant concessions in union members' compensation, we may soon be laying odds on whether that 2014-2015 season will even take place.