School safety workers gathered outside City Hall this morning with Speaker Melissa Mark-Viverito, Public Advocate Tish James and equal pay pioneer Lilly Ledbetter to demand Mr. de Blasio resolve a gender-based equal pay lawsuit.
The suit, which has been open for over four years, addresses the pay disparity between school safety officers and other security officers employed by other city agencies. School safety officers, over 70 percent of whom are female, receive approximately $7,000 less annually than other building safety officers, over 70 percent of whom are male, the suit alleges.
During his mayoral campaign, Mr. de Blasio promised to make the case a priority and to take "immediate steps" toward its resolution. But five months after Mr. de Blasio assumed office, the case remains unsettled and advocates are pushing for action.
"The mayor of this city should follow through on his promise to close this case and settle for equal pay for equal work," Ms. Ledbetter said at today's rally. Ms. Ledbetter became a national icon when she sued her former employer, the Goodyear Tire Company, for failing to pay her as much as her male counterparts. In 2009, Congress passed an equal pay act in her name.
Backed by Teamsters Local 237, the school safety officers' union, and members of the National Organization for Women, Ms. Mark-Viverito made a direct appeal to Mr. de Blasio to resolve the "embarrassment."
"New York must show once and for all that pay discrimination is not acceptable in our city," she said. "It's time for the city to give Local 237 a fair settlement and put an end to the ongoing unfairness that these dedicated public servants have endured for far too long."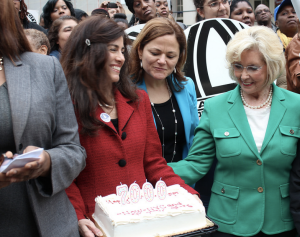 Mr. de Blasio passed the rally on his way out of City Hall, but did not stop for comment. The protesters had planned another way to attract his attention, however.
In honor of the mayor's birthday yesterday, NOW members bought him a cake topped with candles that spelled out "7,000"–the average pay gap between school safety officers and other safety officers in the city's employ. (NOW-NYC President Sonia Ossorio left the cake with a security officer, though a City Hall staffer said the mayor would not be able to eat it.)
Reached for a comment, Mr. de Blasio's office referred the Observer to the mayor's comments earlier this week on the issue.
"When we have a settlement, we'll announce it, as we do with all settlements," Mr. de Blasio said then. "But I think I've said very, very clearly, we're going to settle that case. We don't accept pay inequity. Every legal case comes with complicated matters that have to be worked through. Every legal case involves potential precedent-setting dynamics. So, once you're in a legal dynamic, you have to work your way through it carefully."
"It would have been better not to get to that point and resolve it up front," he continued. "Previous administration didn't resolve it, therefore there was a lawsuit. We are going to settle that lawsuit, and we're going to make sure there's pay equity across our government."