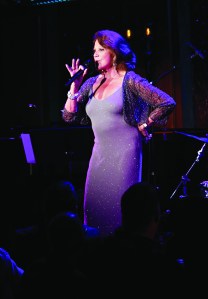 Flanked by her two grown sons in the hospital waiting room, a woman looks vulnerable and vague, lost without her stricken husband. When she finally locates his room, she clumsily climbs into bed with him and cuddles. This is 180 degrees from the Linda Lavin we encountered two years ago on Broadway in Nicky Silver's caustic comedy The Lyons, where she sat by the bed of her cancer-ridden husband, lazily leafing through a posh women's magazine and musing (aloud) about the House Beautiful life she'll have without him.
"Well, that's what I like to do—a 180—surprise the audience," Ms. Lavin said in a recent interview. "New characters bring out different qualities in me. That's the fun of being an actor."
She couldn't get much farther away from the withering wit of Rita Lyons than Sandy Fisher, the dotty little darling she plays in A Short History of Decay, the film opening May 16 at the Village East. In the early stages of Alzheimer's, Sandy is able to pick up just enough to realize her husband (Harris Yulin) is in failing health and their two sons, who have rushed to their parents' rescue in Florida (Bryan Greenberg and Benjamin King) are in even greater domestic disarray than she is.
"Most movies about people with dementia or Alzheimer's are about a further stage of the disease—they're more gone," Ms. Lavin pointed out. "The character that I play is present and then gone and then present and gone again. She's in and out of it, but she knows it's happening, which I think gives the character tremendous poignancy."
Forgetfulness is the least of the problems confronting Audrey Langham, the character she introduces two days later at the Vineyard Theater in Too Much Sun.
La Langham represents another of Ms. Lavin's 180-degree turns: a celebrated actress who, in the prologue, unravels during a dress rehearsal of Medea in Chicago and spends the rest of play mending from her meltdown at her married daughter's summer cottage on Cape Cod. The silver-haired boy-next-door looms like a possible husband No. 5, except that he, too, comes with a crisis-causing kid. 
"It's another Nicky Silver play," Ms. Lavin beamed contently. (The Lyons got him to Broadway and earned her a sixth Tony Award nomination.) "He wrote it for me, and that's a thrill. He writes such human characters—people you don't necessarily like but understand. You understand that their behavior comes out of pain and struggle."
The writer-director of A Short History of Decay, Michael Maren, is a first-timer at both, but he and Ms. Lavin have a traceable history: "When I was offered the movie, I heard his name and told my agent, 'One of my father's fishing buddies, when I was a little girl, was named Maren. I've never heard the name since.' I told that to Michael when he called, and he said, 'That was my grandfather.' My parents loved him and his wife, Sally. I remember them like yesterday. After I read the script and talked to him, I thought, 'Oh, I gotta do this movie. There are reasons here we're connected.'"
It was Ms. Lavin who suggested Mr. Yulin play her husband, as he has done before, in the Broadway revival of The Diary of Anne Frank. "We're comfortable with each other. It's a real treasure when you find someone you want to work with and you complete each other's sentences. It makes it look like people who have been married for a long time. That's an important connection."
The big mission in life for Ms. Lavin's Sandy is to shield her husband from turbulence. "I personally gave up being the overachieving caregiver a long time ago, but it is certainly endemic to women. Sandy frets about him in the film. He holds a lot of power in her life. It also deflects her own fear about herself—that she's losing her memory, her history, her mind—so she defers to him, because he's all she has."
The movie was shot virtually in Ms. Lavin's own backyard—Wilmington, N.C., which she and husband Steve Bakunas called home and which plausibly passed for the Florida shore. She went there in 1995 to produce a movie for the Family Channel, Secrets From the Rose Garden, with Mary Tyler Moore and Shirley Knight, and liked the rhythm of the place so much she stuck around for 17 years, restoring a neighborhood and founding a theater. 
"I'd just put my house on the market when I got the movie, so I lived at home and went to work. It was a wonderful luxury for me. That doesn't happen very often."
Not that Ms. Lavin has spent much time at home since the closing of The Lyons. Mostly, she has been in California, playing mother to Sean Hayes for a season of NBC's Sean Saves the World and performing her ongoing nightclub act, which she'll do once more for the East Coast (at Birdland on July 14 and at various venues in New Hope, Fire Island and Cherry Grove). Her musical director is Billy Stritch, and her drummer is her husband (who also happens to be an accomplished painter, with an exhibit, "Faces & Places," now on display at Trent & Company, 594 Broadway). 
"I started in musicals," she said. "Hal Prince pulled me out of the chorus and gave me speaking roles in my first musical, A Family Affair. All I did at first was musicals. I was a singer, and it was easier to get singing auditions than straight-play auditions."
When the straight-play did rear its happy head, she was off and running, winning her first Tony nomination for Neil Simon's Last of the Red Hot Lovers and the award itself for his Broadway Bound in which she gave the family dining room table a loving waxing that still shines in memory. Two Golden Globes (for TV's Alice), two Drama Desk Awards and an Obie followed, further validating Mr. Prince's wisdom.
But she'd do another musical in a downbeat. "If the material's right, I'm there—for a musical, a play, a movie, TV. It's all about the material and the people in the room." ν