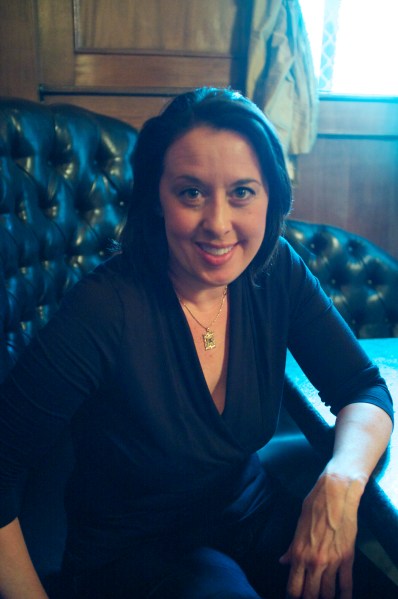 When I arrived at Clover Club, Smith Street's preeminent cocktail den, on a recent Tuesday afternoon, the employees were high-fiving over a just-awarded "A" grade from a Health Department surprise inspection. Founding partner Julie Reiner was in a celebratory mood, too. "Do we have to do just one drink?" she asked, as we took a seat in the bar's back room.
Ms. Reiner, who is also behind Flatiron Lounge, has been one of the leading lights of NYC's cocktail revolution for close to two decades, from her breakout work at C3 to an embarrassment of current-day side projects, like running the drinks program at Midtown's Bar 54 and penning a forthcoming craft cocktail guidebook, even if there have been some haters along the way. "Some chefs that I worked with weren't so excited about it, because it was upstaging them," she explained of the rise of the cocktail. "I got fired from C3 for doing too good of a job. I was like, make better food and maybe they'll write about you."
At Clover Club, there is no church-and-state separation between the kitchen and the bar. In fact, chefs are encouraged to contribute ideas to the cocktail list (not to mention purees and syrups). "They have culinary training that most bartenders don't have," said Ms. Reiner. For a period, Clover even had a section of chef-inspired drinks, which included such experimental creations as Hocus Smokus and We Got The Beet.
"Being in Brooklyn, we have a very highly educated clientele, on all things food-and-beverage," said Ms. Reiner. "We are expected to be cutting edge and to always be pushing the envelope and give people new, interesting takes.
"The thing I love most about this bar is we can do stuff like that and our clientele get it," she continued, referring specifically to the BBQ bomb that was Hocus Smokus. "They may not order it again, but they'll be like, wow, they went there."
As for the thing she loves least about this bar? The customers that steal shit—everything from the julep cups to the pictures in the bathroom. "Seriously," she said, looking up from leather-bound menu, "if it's not nailed down, it's walking out of here."
But back to the business at hand, Ms. Reiner was torn between a variation of a drink she deemed as classic as a martini but equally "easy to fuck up," and another one, which she prayed may one day replace mimosas on all brunch menus. "The mimosa should be shot," she bemoaned.
Who was I to argue? Let's drink two!
***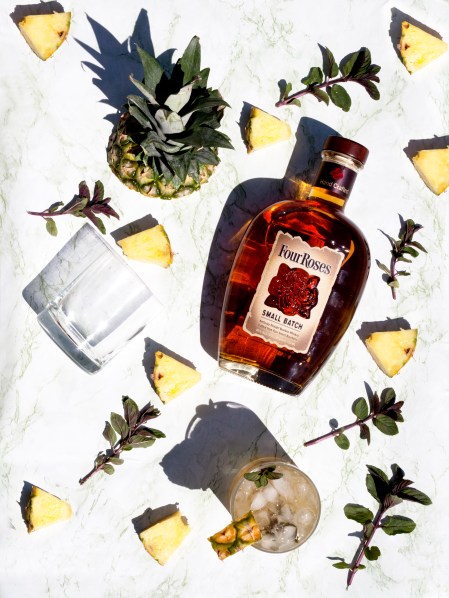 ---

INGREDIENTS:

 2 oz. Four Roses bourbon
.75 oz. pineapple syrup*
8 mint leaves

METHOD:

1. In a julep cup, gently muddle mint leaves in pineapple syrup, then add bourbon.

2. Fill the cup halfway with crushed ice, and lightly stir or "jiggle" with a bar spoon to mix until some frost appears on the outside of the cup.

3.Top with more crushed ice, stir a bit and then fill to the top with ice.

4. Garnish with 2 or 3 mint sprigs and a pineapple stick.

* To prepare pineapple syrup, cube 1 whole pineapple into small (1-inch) cubes. Add 4 cups of sugar and stir. Macerate for 30 minutes. Blend with an immersion blender until completely smooth. Strain and fortify with 2 oz. of vodka per quart. Bottle, refrigerate.

---
WHAT WE DRANK: PINEAPPLE JULEP
"Last year we had a pineapple julep on the menu and it was so popular, but it just wasn't pineapple-y enough. So this is like the reinvention of that. We changed the syrup that we're making, we changed the whiskey that we're using, and now the pineapple really comes through. It's just a delicious variation on the mint julep."
WHY IT WORKS:
"Pineapple is very high in acid. If you cut it and eat it right away, it's usually not as sweet as if you cut it, cover it and put it in your refrigerator. The next day? That's when you go to eat it. It's the same way for the syrup. We macerate the pineapple in simple syrup, essentially. It's just pineapple and white sugar and we let it sit, then strain it out. There's no water added at all. It's just the juice of the pineapple that's creating the syrup so you get this intense pineapple flavor."
WHY DRINK IT NOW:
"It's Derby season! In general, we do a lot of juleps in the summertime, and I love this one. I'm from Hawaii, so pineapple makes sense."
TRICKS OF THE TRADE:
"There's a lot of debate with this drink. Do you make a mint syrup? Do you throw the mint in then pull it out? Do you only use mint as a garnish? We put fresh mint in the bottom of the julep cup, add the syrup and just lightly press on it, releasing its oils. We'll then add our bourbon, give it a little stir and then slowly add ice doing what we call the jiggle method. Not a swizzle, which is vigorous. It's like you're sitting on your porch in the South and you have your spoon and you're just moving the ice around a little bit, jiggling it. Add a little bit more ice; jiggle it some more. We also put a very large mint garnish on, because the aromatics are so hugely important."
***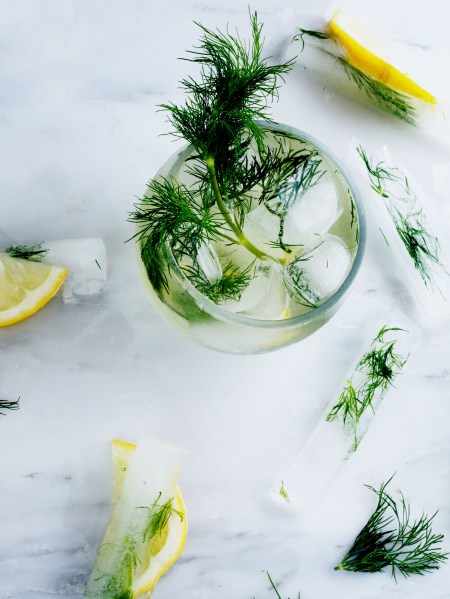 ---

INGREDIENTS:

 2 oz. Oxley gin
.5 oz. Lustao Fino Sherry
.5 oz. lemon juice
.5 oz. cane syrup
2 small dashes (or 1 large dash) of creme de peche

METHOD:

1. In a shaker, muddle a large pinch of parsley and dill—no stems!—in the cane syrup.

2. Add the remaining ingredients, then add ice and shake vigorously for 10 to 12 seconds.

3. Fine strain into a rocks glass over fresh ice.

4. Top with 2 oz. of soda water.

5. Garnish with a parsley sprig.
ROUND TWO: PART AND PARSLEY
"This drink was created by Tom Macy, our head bartender, and it's in a section we did called 'New Takes on Gin.' When I opened Flatiron Lounge 11 years ago there were like 10 gins on the market. Now there are 300 gins on the market, and most of those are craft. So we wanted to showcase some of these different styles and some of the ones we think are really interesting."
WHY IT WORKS:
"We did an in-house cocktail competition with Oxley Gin, and all of the bartenders here created an Oxley drink for this new section. I think parsley and dill really mesh with the botanicals that are already in the Oxley, which is cold distilled and very, very small-batch, although it's actually now owned by Bacardi. The drink is not overly herbaceous, the citrus is really nice and it's very well balanced. It's just easy drinking."
WHY DRINK IT NOW:
"There's so much about cocktails and drinking that's ceremonial—there's always that perfect cocktail for whatever the occasion is. This is so quintessentially spring. It's rare to taste a drink that has parsley and dill in it that actually works and is refreshing. It's a really great brunch drink, too."
Clover Club; 210 Smith Street, Brooklyn; 718.855.7939; cloverclubny.com