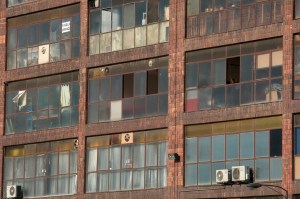 Living in an unconverted industrial loft often seems like the kind of thing that New Yorkers only do in the movies, akin to ice skating at Rockefeller Center or visiting the top of the Empire State Building. Still, there are a handful of artists and assorted creative types residing in spartan, if often palatial industrial lofts yet untouched by sleek condo conversions.
However, their chance to legalize lofts not zoned for residential use, and thus join the lucky few who have managed to turn their live-work spaces into rent-regulated domiciles, ended on March 11, when the loft law extension expired.
And while housing advocates worried that many loft dwellers were unaware of the impending deadline, loft protection applications filed with the Department of Buildings surged to 122 in the first three months of 2014—by comparison, 88 applications were filed in all of 2013. Of course, due to their illegal nature, it's impossible to tell just how many lofts didn't file for protection, and advocates say there could be many eligible buildings that blew the deadline. The DOB wrote the Observer that they have no estimates on the number of illegally-occupied lofts in the city that did not apply.
"I have encountered at least four buildings, one with at least 20 units, that missed the deadline," tenants' rights attorney David Frazer told the Observer. "Some just didn't know about it, others had consulted with me months or years earlier, but didn't apply in time."
New York City Loft Tenants, an advocacy group, said that since March 11, it "has heard regularly from tenants and buildings who missed the deadline."
The original loft law, which was enacted in 1982, created a path to legalization for lofts in Lower Manhattan and several other areas of the city. In 2010, in response to a large number of illegal lofts in converted factories or warehouses that had been occupied in the years since, particularly in formerly industrial strongholds like Williamsburg, Bushwick and Long Island City, the state legislature passed a new law allowing tenants to apply. Like the original loft law, the new one only functioned retroactively—in order for a unit to qualify, it had to have been occupied for 12 consecutive months between 2008 and 2009, though not necessarily by the current residents.
Generally unpopular with landlords, though it did open up the possibility of lucrative residential rents in the future, the law required owners to make upgrades, like installing sprinklers and fireproof doors, to bring the buildings into compliance with residential building codes.
Aside from improved safety, tenants received eviction protections and potential rent stabilization, though as the New York Times documented in 2010, some landlords moved to immediately evict tenants who applied, arguing that their buildings were unsuitable and that they had no idea tenants were living in their studios.
And whether it was from fear, ignorance or a simple lack of desire, many loft dwellers hesitated before filing; the DOB received only 63 applications in 2010, the year the law passed, followed by 134 in 2011, 69 in 2012 and 88 in 2013.
Not all units that apply for protection qualify, of course. Mr. Frazer said that some buildings are found ineligible because of inherently incompatible uses, or because they could not prove that they had three or more residential units. Other attempts failed because residents could not prove that someone had been living in the space from 2008 to 2009 due to turnover. Units must also be at least 400 square feet and have one window facing outside and cannot be in the basement.
Advocates say that they are hopeful that the state legislature will extend the deadline again. As for future loft laws that might legalize the living spaces of those who have more recently relocated to industrial neighborhoods, Mr. Frazer said that he suspected it would be some time before there was a critical mass to support them.
"The available stock of industrial lofts is getting very limited," he said. "Especially now that many of the new neighborhoods people are moving to are pretty aggressively residential."