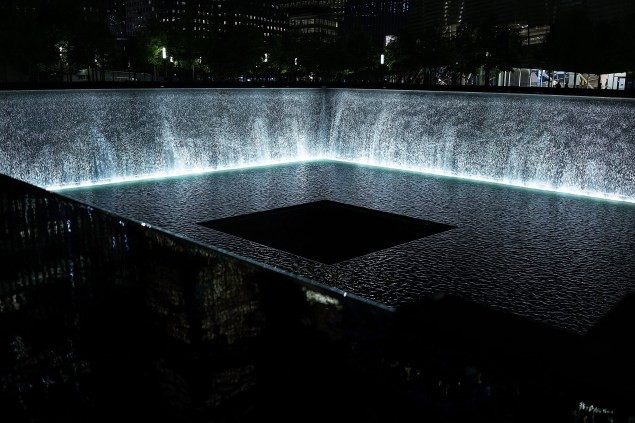 We almost didn't go to the September 11th Memorial Museum on Thursday, the day it was dedicated and opened, even though we had 9:30 pm tickets. By the mid-afternoon I was starting to feel sick, and kept thinking that there was no way I could drive on Route 3 feeling as awful as I did. I attended back-to-back lacrosse games, but I kept my distance from the other parents on the bleachers. By the second game, Charlotte's, I decided I was coming down with the flu: my head hurt, my stomach hurt and I felt queasy. And then it dawned on me: I wasn't sick, I was simply dreading this visit to the museum, and I had been, for several days now.
Earlier in the day I watched some of the dedication ceremony on TV, but I turned it off because I was getting agitated listening to the stories of those who escaped. My husband, Jeffrey R. Smith, who worked for Sandler O'Neill on the 104th floor of the South Tower, did not escape. He and hundreds of other people heard and heeded the mysterious announcement that "the building is secure."
We drove into the City at 9pm. I was irritable, and my girls knew it. My eldest daughter, Maggie, said "I've got 'calm' music ready to play, Mom," and Charlotte said, "Yeah, we know you're cranky." Sometimes I am amazed by how my daughters know how to handle me.
On the drive in I shared my two fears about the museum with them. The first they knew: I feared something of Jeff's would be in the museum, something of his that someone found in the rubble and was never identified as belonging to him. The second fear was that because I could not remember which pictures of Jeff I had given the museum, I had no idea what they had or didn't have.
---

It's not a pretty picture, looking back on that day. A lot of what I was required to do back then did not reflect well on me; it's not easy to be gracious when people are asking you to bring your husband's death certificate, your marriage certificate, and your kids' birth certificates along with you. Most people do not know where this stuff is; I've got a file, good to go.

---
"I really don't know which pictures I gave them," I told my daughters, now 15 and 13. "I remember driving to Rutgers with a basket of pictures to donate to the museum. I remember I got lost, I remember I was crying, and I remember one of you called me in the middle of this day needing lunch or something. I was stuck on Route 1 in traffic, with pictures of Daddy on the seat next to me, and a mapquest map in my hand."
It's not a pretty picture, looking back on that day. A lot of what I was required to do back then did not reflect well on me; it's not easy to be gracious when people are asking you to bring your husband's death certificate, your marriage certificate, and your kids' birth certificates along with you. Most people do not know where this stuff is; I've got a file, good to go.
I finally got to Rutgers, and met with the women who were doing the collecting for a museum that was barely in the planning stages. This was back when every other town in America had a memorial, but NYC did not. There was bickering between families and state officials over unidentified remains, the location of the buildings, a mosque.
I gave them my pictures, and insisted they digitize them right then. This decision would make me late for school pick up, which put me into a mild panic because we had recently moved from Greenwich Village to New Jersey and I knew few people at my daughters' school. I didn't know who to call for help, but I would not part with my pictures. And then I sat there while they digitized pictures of my wonderful husband, the man with whom I thought I would spend the rest of my life holding hands. I know I cried, and I think I yelled a bit, too – about my annoying adventure to find the building where we sat, my anger of having to do this, and how I was going to be late picking up my kids. It was not Ellen at Her Best.
On Thursday night as we approached the Lincoln Tunnel I told my girls I was sorry if I didn't submit the right pictures. "I am sure I will be able to add some if we're not happy with what we see, okay?"  We parked the car, and began the walk to what used to be my husband's place of work.
We had seen the Reflecting Pools once before, but unfortunately it was not a good experience. Some tourists gawked at us while we were doing a grave rubbing of Jeff's name, and then they made jokes about an airplane that happened to be flying overhead. I yelled at them, but they gave us the finger. I asked a guard to kick them out, but he was ineffective, despite the fact that I was wearing WTC Family Member ID tags around my neck. A week later I called someone official who said "so sorry."  I tried not to think of this as we approached the pools.
The pools are breathtaking at night; we found Jeff's name and I asked a firefighter in dress uniform to take our picture. No one bothered us. As we went through security, I was grateful to know that the only other people in the museum at this time were Family Members and Rescue Workers, and that we had all the time in the world to take a look; the museum was open for 24 hours.
Immediately we were engulfed by the sheer size of the museum; huge walls stretch up forever, and I was reminded of the vastness of the WTC lobby and the Towers themselves. It is a beautiful space. We found Jeff's picture, a wedding shot, and I cried.
"My husband, your daddy, should not be on the wall of a museum," I said to the girls. "He should be here with us." We stood there, the three of us, holding onto each other, crying. No one approached us, no one gawked at us; it was as if we were alone. Charlotte remarked that it was good "not to be a part of the museum, ourselves." I commend the museum for this small gift.
We found the touch screen tables and Maggie typed in Jeff's name. I cried and laughed with relief when I saw the pictures. Of course I submitted the right ones; of course I did. My in-laws submitted pictures also, and they recorded two short stories of Jeff through Story Corps; I have an appointment to do the same shortly. We could hear other families echoing our own cries and laughter as they looked at pictures of their loved ones, but we did not talk to anyone; I made eye contact with only one other visitor the whole night, and it was brief.
The rest of the museum is a blur because we mostly avoided it. Charlotte refused to go in the September 11th room, and she sat outside the exhibit while Maggie and I briskly walked through it, merely glancing left and right. I unexplainably stopped to look at a webcam of a plane hitting a tower in stop motion, but Maggie pulled me away when I began to weep. "We don't want to see that, Mom." She was right; I've seen very little video of that day, and Thursday was not the night to start to look. We glanced at the Timeline, confirming that the announcement announcing "the South Tower is secure" was included, and then we quickly rejoined Charlotte.
I went back to the Museum with a dear friend on Monday. She and I lived and worked in Manhattan for 20 years, and I wanted to look at the collected postcards and other items that honor the WTC with a fellow New Yorker, another gal who used to step up onto the sidewalk from the subway each morning, and spin around until she saw the Twin Towers and then knew which direction to walk.
It's taken me years – almost 13 — to figure out how to walk without Jeff holding my hand. I still shake my head at the senselessness of it all; I cannot figure out how it is that my husband is part of a national tragedy. I cannot fathom how I got from there to here alone, but when I look at my now-teenaged daughters, I know I have walked a long way without him. The girls were babies, and now they are not. I am proud to know he would be so happy with them, and with me, too.
Ellen Bakalian lives with her two daughters in northern NJ. She is an adjunct professor at Montclair State University.