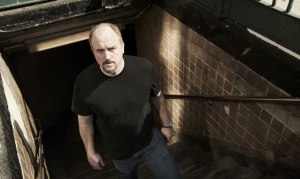 On Monday afternoon, anybody who bought one of Louis CK's specials or signed up for his mailing list got a mass email from the man himself. It was a typically bashful little note reminding fans that the fourth season of Louie was airing, and that he hoped you'd enjoy it.
It was very polite! It's like what my mom would say if she had a television show sort of based on her life that starred her, although I don't know if anybody would want to watch Call Your Daughter About the DVD Remote and Ask Whether or Not She's a Lesbian.
"Louie" is now in its fourth season on FX, and I've watched every episode that has aired so far. In spite of my own, sordid personal history with human men (so done), I did and do "enjoy" the show.
I know that there have been one or two things written about how the People Who Make Shows should go out of their way to foster and embrace underrepresented talent, like women, people of color, and the LGBT community.
I could not agree more with this! So, let me explain really quickly how I'm able to watch a program like Louie and be glad it was made and that it's succeeded and is still on the air.
First off: I don't know about you, but I will personally never forget the day that we all agreed that not everything that gets play-pretended on TV needs to be dissected in endless microscopic detail. I was in Times Square. A sailor kissed me in a rain of ticker tape. It was great.
Second, the television has changed a lot. A lot of it isn't even on television! Isn't that crazy?
I remember when HBO was just a 24-hour documentary channel about clown orgies and old men masturbating together in the woods. I remember when the FCC prohibited network shows from showing married couples sleeping in the same bed or single people over 120 pounds finding love. I remember when Yahoo! used to just be a place where your email wouldn't load because of an offensive animated ad of Ellen without makeup. Now, it's a place where you email won't load because of an offensive animated ad of Ellen without makeup, but they're also getting into TV. What a world.
Welcome to tvDownload

The Observer's new channel devoted to that ever-shifting changeling we call television.
Louis CK is a male comedian. This is true. But his show is also thoughtfully done and different than what's been on TV. It's consistently surprising, which can be said of very few television shows. It's often funny and often deliberately not, and hopefully made great headway in demonstrating that when you let a creative person actually create something, on their terms instead of saying, "no, let's just get five twenty-six year olds on juice diets and have them make jokes about math Asians," it can actually draw an audience.
You can totally be bored by the fact that Louie is primarily about a straight rich man, doin' straight rich man stuff. I wouldn't fault you for it. But it's also a good example of a network being willing to take risks on something that turned out to be both a critical success and a ratings draw. Hopefully, that will serve as an example of doing something different and having it pay off. Hopefully, in the form of some really talented South Asian lesbian getting her own show in the near future.
Whether it's your style or not, the occasional stark weirdness of Louie belies an evident willingness on behalf of the gatekeepers to say, "Okay, let's do something different." If they can give Louis CK the keys in the way that they have, maybe they're willing to take bigger creative gambles on a more varied pool of human beings.
Sure, in terms of strict diversity, it's not terribly groundbreaking, although some of the guest stars have been notably non-white, or female, or sexual and over the age of twenty-seven.
Okay, yes, it's a male comedian's work about a male comedian's life. Maybe you don't even like the show! But it's one I think is breaking some ground.
I am desperate for the day we have a black, gay, female Louie on television. I am just as desperate for this as anybody clamoring for it. I say, keep clamoring.
Especially now there's "more room" for new people to make new and interesting television. Stuff that doesn't quite fit the mold can help serve to convince people that it's time for our talented trans and female and gay and brown and People from All Walks of Otherness to step in and be paid to write and edit and perform their own work, too.
I'm simply cheered by something innovative that's in its fourth season. We're nowhere close to having the landscape of creators that I'd like to see, but this does help forge a path for people who don't look like Louis Ck to have a platform to tell stories like he does. Let's give it to them.
The problem is not that a male has a television show. It's that talented people who don't look like him don't. But hopefully, soon, we'll have television that is as wholly satisfying as "Louie" can be at its best, that looks totally different.
Julieanne Smolinski is a TV writer living in LA. She's written for GQ, Vulture and famously fought Will Shortz over the definition of "Illin." You can find her on Twitter as BoobsRadley. She will be performing at m bar on Tuesday 5/13.