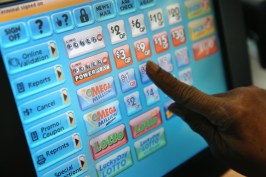 Taking a lunch break has never been more profitable.
A security guard at Rockefeller Center hit the jackpot when he bought a scratch-off ticket at a Midtown Pronto Pizza during his break, turning his $10 into $3 million.
Rafik Sulaiman, a 58-year-old father of three, is even more lucky than you might think: His winning ticket was the last one left in the vending machine.
Today Mr. Sulaiman found himself among eight other New York Lottery winners. After taxes, his prize amounts to around $1.5 million. And while his partners in dime may have more lavish plans for their loot, Mr. Sulaiman isn't quitting his day job.
For now, his only plans are to "hang low." In the meantime, the rest of us have an excuse to take as many breaks from work as possible.
May the odds be ever in your favor.