An overdue retrospective of the paintings, drawings, sculptures and participatory artworks of Lygia Clark, curated by Luis Pérez-Oramas and Connie Butler, fills in the gaps in our understanding of the Brazilian artist's work and brings out its continued radicality. Ms. Clark is often represented in exhibitions through her sculptures entitled Bichos (creatures), made from 1959 to 1966. She is accused of "abandoning" art in the late 1960s for object-based psychoanalysis. This career-spanning survey of 300 works from late 1940s to early 1980s takes us beyond her most iconic work to better understand her project as a whole and reunites the later performance and participatory projects with Ms. Clark's earlier paintings and sculptures.
The show is organized into roughly three parts. In the first, we see Ms. Clark, as a young woman, encountering the abstraction of the European avant-garde. The earliest paintings, dating from Rio and Paris during the late 1940s to mid-1950s, echo established propositions about the picture plane as a space for simplified geometric compositions. Some of her layered, tone-on-tone paintings are pretty, but they are deeply derivative of Paul Klee, for example, or in dialog with Vladimir Tatlin and most of all Piet Mondrian. Paintings quickly lose any illusionistic quality, transforming into what Ms. Clark called "spatial modulations," in which forms on the picture plane start to take on the appearance of boxes flattened out onto a 2-D surface.
In the next room, Clark lovers can rejoice—there are mountains of Bichos. These three-dimensional, hinged works extend the logic of the paintings into space. Their materials run the gamut from aluminum, stainless steel and gold patina, studies in balsa wood and one or two in bronze or painted metal. One inevitable criticism of the show is that out of the 50 Bichos in this display, only a few are recreations you can interact with and handle as the artist intended. Most are "originals," too precious for such manipulation. Some of these sprawl, snake-like, on tree branches or blocks of rough-hewn wood, as if they were literally creatures. Most rest on high pedestals. These are shown alongside paintings like Planes on Modulated Surface Version Number 1 (1957), in which white and black interlocking forms are separated by gouged lines.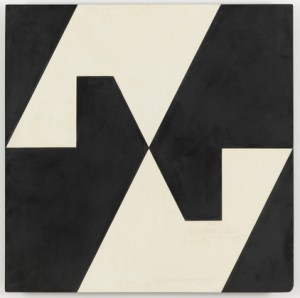 The final room of the show features Ms. Clark's participatory artworks. You make the artwork yourself in 1963's Walking by standing at a table cutting a Moebius strip out of paper. Masks with scents and mirrors invite the viewer to smell or feel the art in new ways. Far from an abandonment of art, this work extends Ms. Clark's thinking about space and line into the realm of direct engagement with the viewer. On the day I went, dancers used her "Sensory Objects" to engage a blindfolded man with objects like conch shells, small white stones and a duvet filled with Styrofoam pellets. This work, made between 1966 and 1988, has influenced the performances of young artist Ei Arakawa and looks very much like object-based contemporary performance art today.
On the fourth floor, Ms. Clark's tent-like installation of 1968, The House is the Body: Penetration, Ovulation, Germination, Expulsion, made for the Venice Biennale, invites the viewer to re-experience the birth process, with the participant touching sperm-like white balloons, entering a womb-like chamber and passing through fibrous yarn filaments on the way out of the installation. The piece is underpinned by Ms. Clark's growing interest, from the late 1960s on, in avant-garde psychoanalytic theory. Emerging from it is a surprisingly exhilarating experience.
This retrospective of Ms. Clark's work presents an opportunity to reexamine the roots of participatory artwork, using a wider geographical and theoretical lens. In America, we generally see Allan Kaprow, with his interactive happenings from the 1960s, as the father of participatory art. Where Mr. Kaprow's performances had Jackson Pollock's paintings as their jumping-off point, Ms. Clark's body of work is an important, often-overlooked link between the art of the 1960s and contemporary relational aesthetics. (Ms. Clark even described her later work as consisting of "Relational Objects.") Whether it's coming from Jutta Koether, Rirkrit Tiravanija or other artists, such participatory work is now a familiar part of our art-viewing experience. With "The Abandonment of Art," MoMA, at times so conservative, continues to expand its narrative about the history of art in its current set of summer exhibitions: From Sigmar Polke to Paul Gauguin, Robert Heinecken to Jasper Johns, these shows make it the must-see museum of the season.
(Through Aug. 24, 2014)