Remember Thamsanqa Jantjie, the interpreter who used phony sign language at Nelson Mandela's funeral? He's now the star of a new commercial for an Israeli streaming app.
"I want to be a professional actor," Mr. Jantjie told Betabeat when we spoke with him over the phone this morning. "[Being famous] was my dream since I was a little boy."
In the commercial, an enthusiastic Mr. Jantjie announces that he's sorry for what happened at the funeral, and that he's going to make it up to the world by entertaining everyone with appearances in ad campaigns. He then goes on to introduce Livelens, a new app that lets users stream live video to their friends and followers.
"Remember — the most interesting things happen live," he says in the ad.
[youtube http://www.youtube.com/watch?v=CzSSGEVnvHU&w=560&h=315]
Livelens CMO Sefi Shaked explained to Betabeat why the company chose to feature Mr. Jantjie in their campaign.
"We wanted our users to feel free to express everything they want in the live application," he told us over the phone. "If we took the person who had the worst live broadcast in the world, then everybody would feel free to express themselves."
But getting Mr. Jantjie to appear in the commercial wasn't easy. Following Mr. Mandela's funeral — where Mr. Jantjie claimed he heard voices and saw hallucinations — the schizophrenic interpreter was admitted to a Johannesburg mental institution for treatment.
When Livelens decided they wanted to use his talents, they sent a journalist into the hospital to sell Mr. Jantjie on the idea. Mr. Jantjie was interested, and later talked with his wife about how they would sneak him out of the hospital.
"We came up with a plan that we are going to make [up] an ancestral ceremony," Mr. Jantjie explained.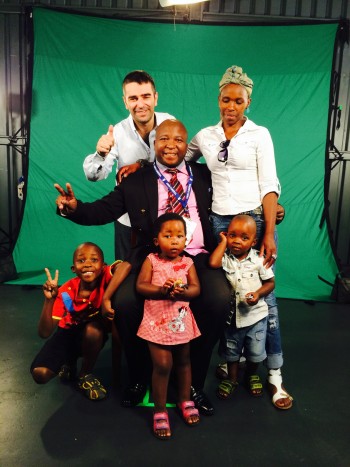 Faking a familial obligation, Mr. Jantjie convinced the hospital to release him for one day in February, which he actually used to shoot the commercial. He returned to the hospital the following day, and was eventually released around a month ago. He now returns periodically for check-ups.
"It was something new in my life — It was something that I really enjoyed," Mr. Jantjie said of the filming experience. He also noted that the commission was "very, very good," and that he's using his earnings to buy a house for his family.
"They are so happy, they are overwhelmed," he said. "It has changed our lives dramatically."
We asked Mr. Jantjie if he felt bad that his newfound celebrity came at the price of messing up Mr. Mandela's funeral service. Mr. Jantjie, truthfully, doesn't seem sorry at all. He even said he doesn't feel bad about having performed incorrect sign language at the funeral, because either way — phony or not — he still helped raise awareness for an important cause.
"No, no, no, I'm not sorry at all — there is nothing to be sorry about, because what I did on that stage, it still benefits people with disabilities right here in South Africa," Mr. Jantjie said passionately. "There's a serious problem with people with disabilities, because they don't get jobs.. What happened, I don't feel ashamed."
Mr. Shaked hastily attempted to clarify Mr. Jantjie's statement.
"In a personal conversation, he was telling me he was sorry about the disrespect, but happy about the awareness," he said.
Mr. Shaked knows the campaign, which launched on May 6, will trigger some heated debate. After all, the stunt is arguably exploitative of a man whose severe mental condition caused him to embarrass himself on live TV. Is that something we should all be okay laughing at?
"[With] every campaign, some people think something is disrespectful," he said. "We are expecting an argument. But deep down in our hearts, we know that we have a person with a mental disability, and we did change his life from a situation he was already in. [And] if Saturday Night Live feels okay joking about it, why not in a campaign?"