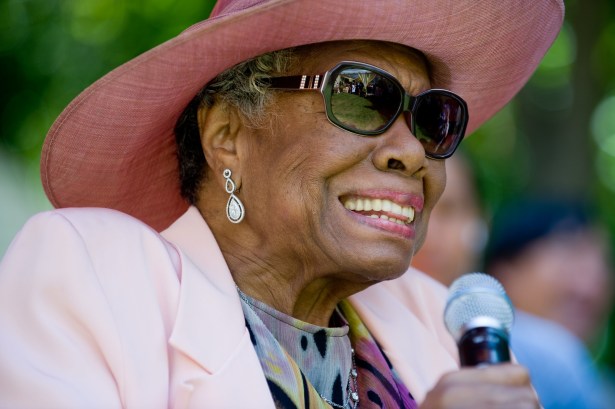 Inspirational quotes about love, life and happiness appear all over Instagram, Pinterest and Twitter. They're usually corny and easy to mock — but once in a while, you might stumble across an aphorism that makes you think.
The poet, memoirist and general pro at living an awesome life Maya Angelou, though, was a master of the inspirational tweet. And it's no wonder. She had enough good advice up her sleeve to count spirituality junkies like Oprah Winfrey as followers.
Dr. Angelou died earlier today in her North Carolina home, but her Twitter feed, like her published written works, remains a source of no-nonsense advice and motivation. It remains to be seen whether her Twitter account will be run posthumously by a staffer or relative, as in the case of another beloved tweeter, the late Roger Ebert. But either way, it's enough that her tweets have functioned as little oases in a sea of bad advertising, self-promotion and personal branding.
Here's a collection of some of her best.
17. For snapping out of a wishy-washy mood:
16. For dispersing a pity party:
15. For when you feel stuck in a rut:
14. For when you're tempted to let somebody's closed-minded comment pass by unchallenged:
13. For people who talk too much:
12. For when you're slouching, literally and figuratively:
11. In case you're sick of your job:
10. For when you're tempted to complain:
9. To keep from resting on your laurels:
8. This one's just charming:
7. For when you're being a little lazy tbh and need a swift kick in the pants:
6. For when you're wondering whether to stand up for something:
5. Just a good general goal to shoot for:
4. For when you're feeling greedy:
3. When running out the door for a friend date:
2. For when you wake up on the wrong side of the bed:
1. And her first tweet, which is especially bittersweet as Dr. Angelou moves on to that great big garden party in the sky: