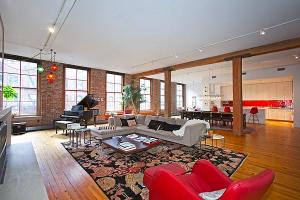 A few years ago, we noted a shift in the character of the residents at the corset factory-cum-luxury-loft building at 30 Crosby Street, in Soho. The "merely rich," it seemed, had become the primary customer base for the 1890 structure's 13 units, replacing the gaggle of celebrities that had shopped for, and in some cases purchased, lofts when first they went on the market following redevelopment in 2001. Actual and prospective buyers had included Lenny Kravitz and Alicia Keys, Swizz Beatz, Courtney Love, Denzel Washington, Claudia Schiffer, Rosie O'Donnell and Cindy Crawford. But there was, after all, at least one less sparkly shopper in Daniel Pelson, a music industry exec who bought a three-bedroom sponsor unit for $2.55 million.
Mr. Pelson most assuredly led a more low-key lifestyle in the building than Ms. Love—at least one neighbor witnessed her being carted away strapped to a gurney—but he's managed a more robust resale, unloading his place for $7.8 million, according to city records. Ms. Love, who owned a similarly sized place, managed a mere $7 million when she sold it in 2011. (The building's newest resident, Justin Leverenz, is director of emerging markets equities at Oppenheimer and most definitely fits in well with the condo's newer, "merely rich" residents.)
Still, his tastes might be described accurately as "rock star-esque." The 4,164 square-foot space features 12 mahogany windows and a 13-foot ceiling held aloft (get it?) by rough-hewn 19th-century columns. There are rich, sprawling hardwood floors, exposed brick, tons of light and, according to the listing held by Town Residential's Tinnie Sassano, "a grand en-suite European master bath." Oo la la! But if refined ablutionary venues are not enough to satisfy your continental sensibilities, there is also "an Italian custom closet system."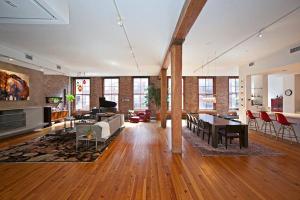 Now, we generally become suspicious whenever an innovation as simple and sound as the closet is subject to systematization. (If it ain't broke… etc.) But then again, Mr. Pelson spent at least some period of time with Ms. Love as his neighbor, a circumstance that could well make one fret about the quality and extent of available hiding places. And Ms. Love, for her part, is always free to come back.