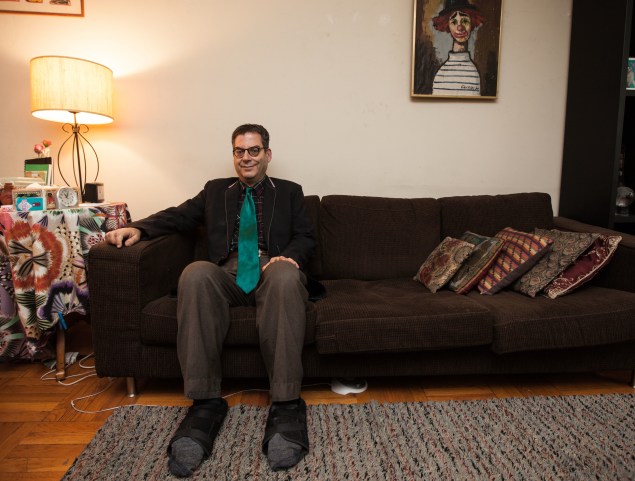 Michael Musto lives with his 94-year-old mother in the quiet East Side neighborhood of Murray Hill. That might come as a surprise to those of you who have followed his gossipy dispatches through the years—at the Village Voice, where he worked for three decades, and now as a freelance columnist for such publications as Out magazine and The New York Times. Mr. Musto, who really needs no introduction, is New York's preeminent nightlife chronicler. But he's as haimish as it gets when it comes to matters of the home.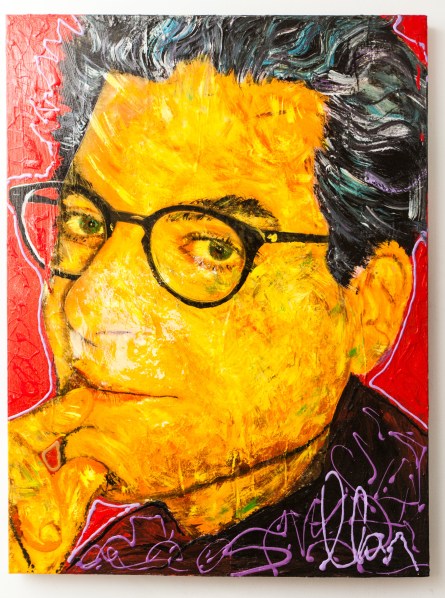 Your place is such a mish-mash of styles, but it all somehow feels right. I grew up with a very welcoming sense of taste, and so I'm very open to beautiful imagery that appeals to me on any level. I live on a piece by piece basis. If I see anything that I like, I'll just pick it up and bring it back. But the pieces cobble together. It might seem a little casually anarchic but there's a method to my madness. I'll place something somewhere and then replace it until it seems right to my eye. Obviously this isn't taken out of a magazine. No one wants this style, but I treasure it.
How did you go about furnishing the apartment? I did a commercial for BoConcept, which showed on Logo TV and other channels as well as cabs. They paid me back by furnishing the apartment with three wall units and a couch.
Your apartment feels a bit cluttered. Do you have trouble parting with your possessions? I'm one of those people who doesn't throw much of anything away. The shelf in the corner of the living room contains a bunch of old VHS video cassettes, and I also have every book in which I've been mentioned. My writing awards are there, too, including the Honorary Golden Pineapple trophy. I don't know what it is. I just accept the awards graciously. I keep my clippings in a file cabinet in the back of the apartment, old stuff from Soho Weekly News and After Dark. I use it for research.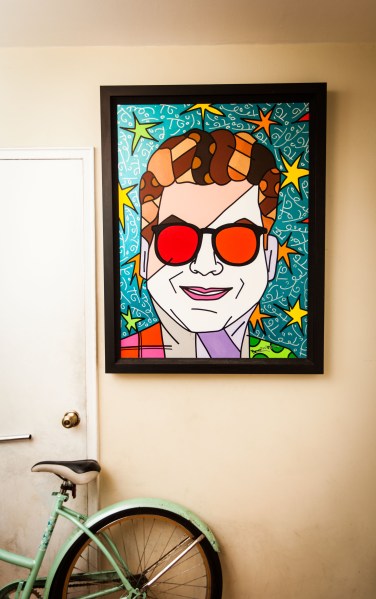 What do you like about this neighborhood? It seems tame for a gossip hound such as yourself. I originally thought the neighborhood had a nice neutrality about it. Geographically, it's equidistant from my two most frequented destinations, which are downtown and Broadway—they're each about 12 minutes away on my bike.
I see a lot of paintings of your face, which is great, by the way. Can you tell me about some of the artwork? There's one by Romero Britto, a Miami-based artist who did Absolut ads. There was a big unveiling of it at a party and I totally hated it. It looked to me like Jack Nicholson as the Joker. But it's grown on me. I think it captures a part of me—the clowniness, I guess. Then there's one by Olan Montgomery. It's a polaroid that he painted over. My favorite is the tabletop with my face on it, which is drawn by the portrait artist Antony Zito. I would eat off my face but I don't have legs.
I would be remiss if I didn't bring up the bike, your trademark accessory. I got my bike from K-Mart. It's the best place to buy cheap bikes, if you don't mind a retro, girly ride with no gears—and I don't.
What are some your favorite items in the apartment, besides the Huffy? I bought these blue yarn flowers at a thrift store. I always love yarn art. Somebody once told me that if you ever have a piece of yarn art, don't get rid of it. I once donated a piece of yarn art to a neighborhood thrift store and then tried to get it back but they wouldn't sell it to me. They said it was part of the decor. There's my high-heel soap dispenser with gardenias inside. Then there's my utensil clock. I bought it at a value store, but on one of the upper levels, so it was more than 99 cents. It works, and you can eat with it—off the table with my face on it. It all comes together here. I'll go anywhere from 34th Street value stores to upscale antique centers to find anything that calls my name.
What about the little dolls at the bottom of the TV set? I saw them in a window and I fell in love with them. A friend started sending them to me each morning until I had the entire set. I love that they're eclectically healthy. Each one has a different fruit or veggie for a head. And they sing! I had to take the batteries out because they'd start impulsively singing at random hours.