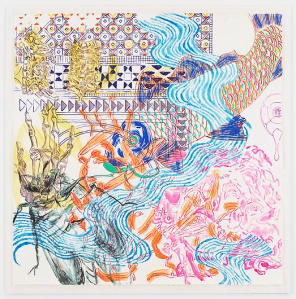 A brightly colored gouache painting by Nancy Graves, the first female artist to receive a solo exhibition at the Whitney, is in the corner of Mitchell-Innes & Nash's booth at Frieze New York. The gallery just began representing the late artist's foundation, after Lucy Mitchell-Innes and Robert Grosman, a director at the gallery, made some unexpected discoveries there.
"They found a lot of work that they didn't know about before, especially the paintings and works on paper," said Josephine Nash, the gallery's marketing associate. She was standing in the booth near Brilliant Venom, a 1988 piece priced at $18,000 that, as of this moment, is still available.
"When I first visited the foundation I was struck by the conceptual nature of Graves's work, particularly a series of abstract drawings and paintings she made in the 1970s which were drawn from satellite images and computer renderings of weather patterns," wrote Ms. Mitchell-Innes in an email to Gallerist. "I felt that there was an untold story here, and when I visited her retrospective in Aachen that feeling was confirmed," she added, referring to a recent exhibition at Ludwig Forum in Germany.
The gallery will present a show of Ms. Graves's sculptures and works on paper, "brightly colored images of fish and frogs and snakes," according to Ms. Nash, that opens at the Madison Avenue branch on May 20.