A wave of sparkling new apartment buildings is leaving certain Brooklyn neighborhoods looking more like Manhattan, but developers are approaching projects in Kings County a bit differently.
Perhaps learning from mistakes made across the river, builders are putting a premium on amenities that appeal to families and evoke a community feel, the latter being Brooklyn's biggest selling point. 
"We are attracting  those getting priced out of Soho, Tribeca and the West Village but still looking for a downtowny neighborhood feel," said Ashley Wirkus, the director of residential leasing for Two Trees. Two Trees amenities include billiards rooms, fitness centers and roof decks.
Two Trees has multiple buildings under development around Downtown Brooklyn, including one at 60 Water Street in Dumbo. Last summer, all 94 units at 30 Washington Street were rented out within three months. 
Also coming up downtown is 388 Bridge, now the borough's tallest tower at 53 stories. The Dumbo building will have 144 condominiums and 234 rental apartments that feature 10-foot floor-to-ceiling windows. The property will also have its own children's playground. 
"These days, Brooklyn is its own destination. It's quiet, it's peaceful, and every couple of weeks, there's a new boutique, restaurant or business that opens," said Roger Fortune of the Stahl Organization. "In the '90s, there was no reason to go to Dumbo. You needed a flashlight if you did."
Condo pricing for 388 Bridge will start at around $550,000 for a studio on a lower floor, and the most expensive penthouse, a four-bedroom on the top floor, will go for $6 million. You'll be able to see the building for miles, since wind turbines will be powering LED lights through a cycle of various colors and patterns.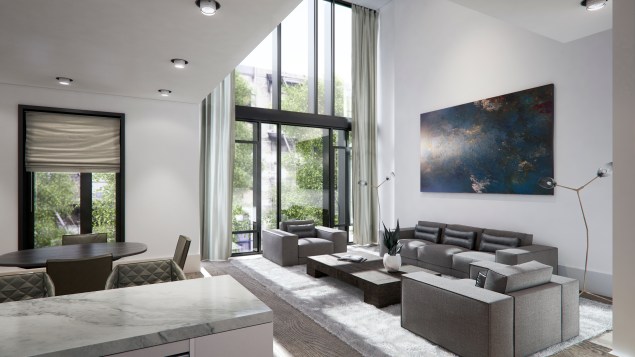 Halstead Property Development Marketing is on top of a slew of new developments coming up all around the borough as well. To name a few: there's 500 Sterling Place, a 77-unit rental nestled between Prospect Heights and Crown Heights; 260 Greene Avenue, a nine-condo residence in Clinton Hill with oversize windows lined in copper priced from $899,000 to $1.35 million; 429 Kent Avenue, a 216-unit condo building covering two acres of land and 33 Caton Place in Windsor Terrace, which overlooks Prospect Park, with studios from $1,800 per month. Leasing and sales for these properties will begin in June and July.  
Of his decision to build on 429 Kent, William Ross, the director of development marketing of HPDM, said that South Williamsburg will naturally follow it's sibling in the North as more families move in to this once-bachelor-packed 'hood. "Wiliamsburg has seen a lot more strollers on the street lately, a continuing trend."
Due to the high demand from young families, developers are actually creating wider unit measurements in newer buildings. Borris Drukker, the president of Borough Builders, took this approach with 650 Bergen Street in Prospect Heights. 
"It was very successful because of the larger family-size units we created, and we would like to do the same thing in our two upcoming projects in Williamsburg," said Mr. Drukker.
So what's next?
Greenpoint is one possibility, developers say. While there are parts of Greenpoint that are landmarked, Mr. Ross says that it's all confined to one small area and won't really interfere with new development. 
There are also opportunities to revamp existing property, like at 110 Green Street in Greenpoint, a luxury rental that was initially backed financially by Magic Johnson. Meadow Partners has invested several million dollars into upgrades for the renovation and rebrand. The building now has a concierge service, a 24-hour doorman, bike and stroller storage, a rooftop terrace and an Olympic-size swimming pool, all of which should be done and ready to go to market within a few months. 
The question remains, though: Is it all really more affordable than Manhattan?
"Entry level in Manhattan these days is $2,000 a square foot and up," said Brendan Aguayo, a senior vice president and managing director of HDPM. "In better parts of Brooklyn, it's becoming about $1,500 a square foot and up. So it's still a 25 percent discount on Manhattan."
According to Tim Quinlan, a principal of Quinlan Development Group, Brooklyn is also more inviting to developers. 
"The land prices are much less expensive, and that's what ultimately drew us there. It was the only place we could make rentals work. We can't make them work in Manhattan anymore," he said. 
Mt. Quinlan is almost done renovating 267 Pacific Street in Boerum Hill, which has commissioned a community-based mural painted by local youth on the side of the building and has rented out its first floor retail space to the Bar Method fitness studio. Of course, the rooftop will have an entertainment space, grilling stations and killer views. A studio in this space will run to $2,350 per month, which isn't exactly a steal. 
"People are willing to pay to be around the new, hip places coming up in the neighborhood," said Mr. Quinlan.
With everyone grabbing up what's left of these up-and-coming neighborhoods, we can't help but wonder if there's anywhere developers won't go.
"Well, I haven't seen any larger developers paying attention to Bushwick," said Mr. Aguayo. 
Wait a minute. Isn't Bushwick super hip?
"It's only a matter of time before Bushwick fully evolves, but it hasn't happened on a large scale yet," he said. "It's like Roberta's right before the cookbook."
Aleksandra Scepanovic, the managing director at Ideal Properties Group, has sold hundreds of apartments to aspiring Brooklynites over the past year. She said that Brownsville, East New York, Cypress Hills and Canarsie were still under the radar for builders.
"Of course, with the battle raging on for affordable housing in the city, real estate developers may be considering developing," she said, "but not for the luxury tenant." 
Not  yet, anyway.