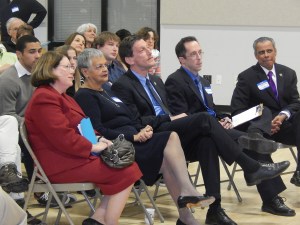 The Monmouth University Poll finds state Senator Linda Greenstein and Assemblywoman Bonnie Watson-Coleman are running neck-and-neck for the Democratic nomination in New Jersey's 12th Congressional District. The race, which also includes Assemblyman Upendra Chivukula and Princeton scientist Andrew Zwicker, is characterized by wide disparities in regional strength for the candidates.
In the race to succeed Congressman Rush Holt, Greenstein has the support of 25% of likely Democratic primary voters and Watson-Coleman has 24%. Chivukula garners 11% of the vote and Zwicker has 6%. However, 1-in-3 voters (34%) remain undecided with just over two weeks to go before the primary election.
"Despite the very tight race, one thing does seem certain. New Jersey's Congressional delegation will include a woman for the first time in twelve years," said Patrick Murray, director of the Monmouth University Polling Institute. The only Republican running for the seat is also a woman, Dr. Alieta Eck, although the district is considered to be safe Democratic territory.
The race for the Democratic nomination has been hotly contested from practically the moment Holt announced his retirement three months ago. The three state legislators carved out their party's organizational support in the portions of the district covered by their home counties, giving them preferential ballot treatment and the early lead in those areas. This includes:
Mercer County – Watson-Coleman leads here with 42% of the vote, followed by Greenstein, who also represents part of the county, at 19%. Zwicker, a Mercer resident, has 9% and Chivukula has 6%. Mercer has the smallest undecided vote at 25%.
Middlesex County – Greenstein has 43% of the vote here, followed by Chivukula, who also represents a couple of towns in the district, at 10%. Zwicker has 6% and Watson-Coleman has 4%. Another 36% are undecided.
Somerset County – Chivukula takes 35% of the vote here, with Watson-Coleman at 12%, Greenstein at 10%, and Zwicker at 1%. Another 41% are undecided.
The only portion of the district without a native son or daughter in the race is Union County, which is dominated by the city of Plainfield. This part of the district awarded its party line to Watson-Coleman, but the poll shows a very tight race here with Watson-Coleman at 21% and Greenstein at 18%, followed by Chivukula at 10% and Zwicker at 1%. Fully half (50%) of the Union County electorate, though, is undecided.
Pollster Murray commented, "Union County may be the lynchpin in this race. There is a hotly contested municipal election in Plainfield that should spur turnout."
The poll also found that Watson-Coleman has solid support among African-American voters (46%) while Greenstein leads among white Democrats (33%) in the district. There are no significant gender differences in the primary vote.
Greenstein and Watson-Coleman garner similar personal ratings from District 12 Democrats. Greenstein holds a 40% favorable to 6% unfavorable rating and Watson-Coleman has a 37% favorable to 5% unfavorable rating. Just over half of likely Democratic voters have no opinion of either candidate – 54% for Greenstein and 57% for Watson-Coleman. Chivukula receives a 25% favorable to 3% unfavorable rating, with 72% having no opinion. Zwicker receives a 14% favorable to 4% unfavorable rating, with 82% having no opinion.
Voter commitment may also come into play. Among those who have selected a candidate, fully 79% of Watson-Coleman voters say they will not change their minds before primary day compared to 60% of Greenstein voters who are similarly committed to their candidate. Two-thirds (67%) of Chivukula voters say they won't change their minds about their choice and 59% of Zwicker voters are similarly committed to their candidate.
Rep. Rush Holt is very popular among his fellow Democrats in the district – 54% strongly approve of his job performance and 32% somewhat approve, while only 7% disapprove – and his endorsement could carry some weight among less committed voters. More than 4-in-10 (42%) likely primary voters say that they would be more likely to vote for a candidate who is endorsed by Holt.
Among undecided voters, about 1-in-4 specifically say that Holt's endorsement would make them more likely to vote for any of the four candidates – including Watson-Coleman (28%), Greenstein (27%), Chivukula (26%) and Zwicker (26%). Among those who have initially chosen or are leaning toward a candidate, 23% of voters who are currently supporting a candidate other than Watson-Coleman say a Holt endorsement would make them more likely to change their vote to support her and a similar 24% of non-Greenstein voters say that a Holt endorsement would make them more likely to vote for her. About 1-in-5 (21%) non-Chivukula voters would consider voting for him if he garnered Holt's endorsement and 16% of non-Zwicker voters say the same for a Holt endorsement of Zwicker.
Poll director Murray observed, "Watson-Coleman has the strongest base support going into the final two weeks of this campaign and has virtually locked up Mercer County, which is the biggest prize in this four-county district. Greenstein's success will hinge on being able to turn out less enthusiastic voters, particularly in her home county of Middlesex where she already has a formidable lead. The wild card in this race is Union County. The voters there are largely uncommitted and are less familiar with any of the candidates. The extent to which local backers, especially in Plainfield, get out the vote for Watson-Coleman could be the key to victory."
The Monmouth University Polling Institute conducted the poll by telephone from May 15 to 18, with 504 registered Democrats likely to vote in New Jersey's 12th Congressional District primary in June. This sample has a margin of error of + 4.4 percent.