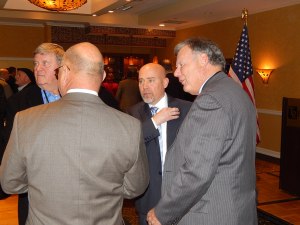 Tom MacArthur holds a double-digit lead over Steve Lonegan for the Republican nomination in New Jersey's 3rd Congressional District, according to the Monmouth University Poll. The race has been characterized by particularly nasty attacks. The mudslinging has had an impact on voter opinions of the two candidates, but hasn't provided a clear advantage for either one.
Businessman MacArthur, who has the backing of the party organization, currently has 46% of the vote among likely Republican voters to 35% for Lonegan, who was the GOP standard-bearer in last year's U.S. Senate election. Another 20% remain undecided in the primary election which will be held on June 3rd. MacArthur holds leads in both parts of the district – 47% to 33% in the Burlington County portion and 45% to 36% in the Ocean County portion.
MacArthur recently received the endorsement of outgoing Congressman Jon Runyan. MacArthur holds a 53% to 32% advantage among CD03 Republicans who strongly approve of the job that Runyan has done during his two terms in the House of Representatives and has a similar 48% to 31% edge among those who somewhat approve of Runyan. Among those who disapprove of Runyan's performance, though, Lonegan has a lead of 51% to 31%, but this group makes up a very small proportion of the electorate. Overall, 34% of likely CD03 GOP voters strongly approve of Runyan's tenure in Congress and another 34% approve somewhat, while just 17% disapprove.
Steve Lonegan has tried to paint Tom MacArthur as a liberal on issues like health care and affordable housing. Lonegan is definitely seen as the more conservative candidate by Republican voters in CD03. Overall, half (50%) of likely voters say Steve Lonegan is a conservative while 28% say he is a moderate or liberal. The reverse is true for MacArthur – nearly half (46%) see him as a moderate or liberal while 30% say he is a conservative. Fully 2-in-3 GOP voters in CD03 see themselves as conservatives – including 37% who say they are very conservative and 30% who are somewhat conservative – while only 29% call themselves moderate or liberal. However, this ideological disconnect does not seem to be lethal to MacArthur's support. While Steve Lonegan has a 51% to 37% lead among very conservative voters, MacArthur has a healthy 50% to 30% advantage among somewhat conservative voters. MacArthur leads among self-described moderate or liberal voters by an even larger 57% to 19% margin.
Lonegan has specifically tried to paint MacArthur as a supporter of Obamacare. This line of attack seems to have had some impact, although half of voters don't have an opinion on where either candidate stands on this hot-button issue. Specifically, 36% of voters approve of Lonegan's position on Obamacare and just 13% disapprove. They are split on MacArthur's Obamacare stance – 24% approve of it and 22% disapprove. Among undecided voters, 2-in-3 (66%) have no opinion on Lonegan's Obamacare position and 3-in-4 (75%) have no opinion on MacArthur's stance.
"Obamacare does have the potential to be a problem for MacArthur and Lonegan is relentlessly hammering away at this issue in radio ads. With a majority of voters having no clear sense of where MacArthur stands, these attacks could have an impact in the final weeks. The question is whether it will be enough to overcome MacArthur's support by the party apparatus," said Patrick Murray, director of the Monmouth University Polling Institute. "This race seems to have boiled down to a contest of organizational backing versus being on the wrong side of Obamacare."
MacArthur has responded to these attacks by calling Lonegan's honesty into question. The poll finds that MacArthur may be having a small amount of success with this strategy. Overall, 30% of GOP voters in the district say that the terms honest and trustworthy describe Lonegan a lot and 31% say they describe Lonegan a little, but 19% say they do not describe Lonegan at all. By comparison, 24% say that honest and trustworthy are terms that describe MacArthur a lot, 34% say they describe him a little, and just 10% say they do not describe him at all.
Lonegan is slightly better known than MacArthur among district Republicans, but MacArthur has a stronger net positive image. For Lonegan, 39% of voters have a favorable opinion of him, 24% have an unfavorable opinion and 37% have no opinion, for a net +15 positive image. For MacArthur, 42% have a favorable opinion, 14% have an unfavorable opinion and 44% have no opinion, for a net +28 positive image.
On the issue of who would do a better job fighting for lower taxes in Congress, neither candidate has an edge. 1-in-4 (25%) CD03 primary voters prefer Lonegan, 1-in-4 (25%) prefer MacArthur and 41% say either one would perform about the same when it comes to taxes.
Another issue – which has not been raised in this primary race, but will almost certainly be an issue in the general election – is that both candidates only recently moved to the district in order to run for the Congressional seat. In the nomination contest, neither candidate has an edge for being in touch with the district – 28% of voters say Lonegan understands the concerns of district residents a lot and a similar 27% say the same of MacArthur. Conversely, 18% of these voters say Lonegan does not understand their concerns at all, which is slightly higher than the 13% who say the same of MacArthur.
Poll Director Murray, in examining the potential for movement in this race, commented: "It is important to remember that 1-in-5 voters remain up for grabs in this race. Neither candidate has an advantage on favorability or the issues with this undecided group. This provides some room for Lonegan's attacks to cut into MacArthur's lead. On the other hand, some underlying dynamics work in MacArthur's favor. Lonegan's support comes largely from very conservative Republicans who infrequently participate in primary elections. Undecided voters in the CD03 primary tend to be less conservative than those who have already made up their minds. Also, the Monmouth University Poll used a fairly broad likely voter model. Tightening the model actually works to MacArthur's advantage and suggests that his margin could be even bigger in a low turnout race with, say, about 25,000 voters. For Lonegan to narrow the gap, he needs to continue to hammer away on Obamacare and work to get the turnout as high as possible on June 3rd."
The Monmouth University Poll was conducted by telephone from May 12 to 14, 2014 with 505 registered Republicans likely to vote in New Jersey's 3rd Congressional District primary in June. This sample has a margin of error of + 4.4 percent. The poll was conducted by the Monmouth University Polling Institute.