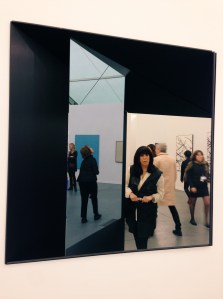 Prepare for a double take while striding past P.P.O.W.'s display at Frieze New York, where artist Sarah Oppenheimer has continued her exploration of architecture by cutting a slanted hole in the wall of her gallery's booth. "Tons of logistics went into the okay to actually do this," said Anneliis Beadnell, a director at the gallery. "We built this wall. The fair didn't build this for us."
Within the window, Ms. Oppenheimer has embedded a sheet of double-mirrored glass, so passing viewers simultaneously see themselves, and the reflections of people on the other side of the wall and behind them. It's disorienting—a perfect complement to the dizzying experience of navigating the fair's VIP hour. 
The gallery was the first to install work in the tent, arriving before anyone else on Monday. The window piece, P-01(14), is an edition of three, priced at $65,000 a pop, and can be custom fit to the walls of collectors' homes.
Ms. Oppenheimer and her gallery mate Adam Putnam conceived of the booth as a "collaborative installation," in which Mr. Putnam presented a sculpture made of wooden beams  that evoke the missing chunk of Ms. Oppenheimer's wall, and photographs of his performance work, in which he uses his body to simulate pieces of architecture.
The curatorial effort is a refreshing respite from less conceptual displays.
"You'd probably lose your mind if you just did fairs that are sell, sell, sell," said Ms. Beadnell.