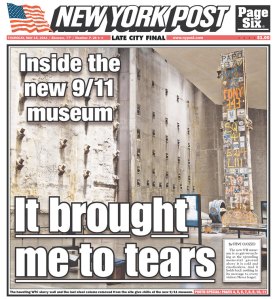 Headline of the Day: "Yogurt capital USA."
A who's who of elected officials is scheduled to speak at this morning's 9/11 Memorial Museum Dedication Ceremony. According to a schedule of events, former Mayor Michael Bloomberg will introduce President Barack Obama and deliver the ceremony's final remarks.
Also on the speaking list: Former Mayor Rudy Giuliani, Mayor Bill de Blasio, New York Gov. Andrew Cuomo and New Jersey Gov. Chris Christie (who just so happens to be speaking before a rendition of "Bridge over Troubled Water.")
The Daily News, the New York Times and Capital took deeper looks at the circumstances behind an unusual deal between Mr. de Blasio and Comptroller Scott Stringer concerning the way the mayor's executive budget accounted for certain retroactive pay raises that are part of the deal with the teacher's union.
According to the News, the pair "held an extraordinary late-night sit-down" at Gracie Mansion the night of the mayor's 53rd birthday to discuss Mr. Stringer's conclusion that Mr. de Blasio had violated a standard accounting rule. The Times "described "a high-stakes tug of war" that "caused Mr. de Blasio frustration and embarrassment and raised questions about the mayor's approach to brokering deals with 151 other municipal unions that remain without contracts."
Lis Smith, the former Obama rapid response queen who was booted from Mr. de Blasio's team after news broke that she was dating former Gov. Eliot Spitzer, has joined State Senator Adriano's Espaillat's campaign team, according to Capital New York. Ms. Smith will reportedly serve as a communications consultant to Mr. Espaillat, who is hoping to defeat incumbent Congressman Charlie Rangel. Ms. Smith also works for the Democratic Governors Association.
The Times took a look at Mr. de Blasio's new status as a "Republican piñata." "National Republicans, alarmed by the rising influence of activist liberals in government and eager to paint the Democratic Party as captive to its left wing, seem to have settled on an unlikely new nemesis: Bill de Blasio," they wrote. In the mayor, "Republican leaders see the embodiment of their fears about an empowered New Left."
The story included an anecdote about former Republican mayoral candidate Joe Lhota who "seemed comforted by the company of disaffected peers" at a gathering of top Republicans in Manhatan earlier this week. At one point, they wrote, Mr. Lhota "reached into his suit pocket and withdrew a custom-printed sticker that summed up the mood in the room. 'Don't blame me,' the sticker read, 'I voted for Lhota.'"
At a DSCC dinner in Midtown last night, Mr. Obama talked about his trip to Junior's Restaurant last fall as he discussed the challenges of the upcoming midterm elections. "I was with de Blasio I guess two days before the election. We're in Brooklyn; the streets are filled and everybody is waving. And I go into buy some cheesecake — some woman comes up and hugs me and kisses me and says, oh, my sister just got on the Affordable Care Act and we love you. What can we do to support you?"
"And I said, move to North Dakota," said Mr. Obama, according to White House transcript. "If I could just get about a million excess votes in Brooklyn — (laughter)– out to Nebraska, Wyoming, we'd be doing okay," he added. "I don't need 80 percent of the vote here."
And here, via New York True, is Mr. Rangel's scrum with reporters after last night's memorable debate, which you can read all about here.
[vimeo 95356441 w=500 h=281]