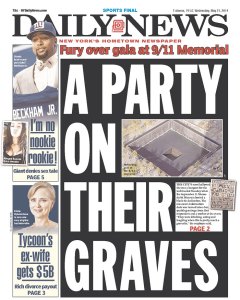 Headline of the Day: 'Angelina: I've got a beautiful fairy-tale life compared to Chirlane."
Mayor Bill de Blasio has been tapped to nominate Gov. Andrew Cuomo for a second term at this week's Democratic state convention, despite the pair's tense relationship, the Daily News reported. As he faces pressure from progressives, "having the liberal mayor handle the honor of nominating Cuomo for reelection could shore up the governor's support on the left."
City lawyers are asking the court to dismiss a lawsuit brought by failed mayoral contender John Liu, accusing him of "assaulting the integrity of the city's campaign-finance system," the Wall Street Journal writes. Mr. Liu, who is trying to revive his political career with a bid for state Senate, is suing the city's Campaign Finance Board for denying him millions of dollars in public matching funds thanks to the allegations.
At a City Council budget hearing yesterday, Police Commissioner Bill Bratton weighed in on the use of unmanned aerial vehicles. "I'm supportive of the concept of drones," he said, according to Capital New York. Added Deputy Commissioner John Miller, "We're not there yet … We have no drones, we don't use any drones, haven't deployed any drones …  However, as the [Federal Aviation Administration] struggles with the emergences of drones as a law enforcement tool … it's something we will continue to look at."
A combination of term limits, unexpected retirements and indictments has created an historic number of openings in Brooklyn state politics. "For the first time in 50 years, six state Assembly and Senate seats have opened across Brooklyn, prompting a rush to fill electoral pockets that, in many cases, have changed dramatically since the last time they were contested," writes the Daily News. "From Flatbush to Carroll Gardens and farther east to Brownsville and Bedford-Stuyvesant, shifting demographics promise to upend the political landscape…"
Former Comptroller Bill Thompson is throwing his support behind State Senator Adriano Espaillat in his bid against Congressman Charlie Rangel."Adriano will be a strong and uniting voice for New Yorkers in Washington. I know Adriano understands the needs of the 13h District and will fight tirelessly to give our children fair and equal education opportunities, our families safe and affordable housing and our small businesses every chance to succeed," Mr. Thompson said in a statement. Both contenders endorsed Mr. Thompson in last year's mayor's race.
And a new Qunnipiac poll out this morning shows Mr. Cuomo leading his Republican challenger, Rob Astorino, 57 – 28 percent in a one-on-one match-up. But that lead drops to 37 – 24 percent with a more liberal or progressive candidate running on the Working Families Party line, with the unnamed progressive snagging 22 percent. "A Working Families Party liberal would cut heavily into New York Gov. Andrew Cuomo's support, especially among younger voters, but he'd still be an easy winner over his Republican challenger, Westchester County Executive Rob Astorino," pollster Maurice Carroll said.
See the full results of today's Quinnipiac poll below:
[protected-iframe id="f61a9d2ce2c53585f0ae8bf2a2bb6a32-35584880-49119065″ info="//www.scribd.com/embeds/225413459/content?start_page=1&view_mode=scroll&show_recommendations=true" width="100%" height="600″ frameborder="0″ scrolling="no"]