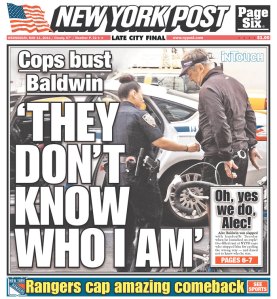 Headline of the Day: "After Ticket and Arrest, Alec Baldwin Gives New York a Piece of His Mind."
It looks like one key ally of former Mayor Michael Bloomberg hasn't dropped his desire to see the Olympics come to New York. The Financial Times reports that former Deputy Mayor Daniel Doctoroff has submitted plans to Gov. Andrew Cuomo touting the benefit of making another play for the games.
But while the paper reported that talks are now underway between the governor and Mayor Bill de Blasio's office–with an advisory committee "likely" to be formed–a spokesman for the mayor splashed water on the idea, saying a bid "is not something the administration is considering."
Congressman Charlie Rangel, facing the re-election battle of his life, is facing another headache after the Post revealed that his campaign manager helped to create the nonprofit at the center of corruption allegations against indicted City Councilman Ruben Wills. Rasheida Smith, a southeast Queens Democratic operative, is reportedly listed on New York 4 Life's incorporation records. Ms. Smith told the paper she only filed paperwork on the group's behalf.
The state's Republican party has a message for President Barack Obama, who will be in New York today for a speech at the Tappan Zee bridge, as the party's state convention begins nearby. "As you pose for cameras with Andrew Cuomo, I'd like to give you a friendly reminder not to forget to thank Rob Astorino for his leadership on the new Tappan Zee Bridge," said party Chair Ed Cox in a statement, referring to his party's candidate for governor. "[Y]ou wouldn't want to risk appearing like a political prop for a nervous governor on the day of his opposition's convention."
Mr. de Blasio's cousin, John Wilhelm, the former head of UNITE HERE!, sidestepped questions yesterday about a $175,000 contribution the union made to an anti-horse carriage group that is reportedly under investigation by the FBI. According to the Daily News, Mr. Wilhelm distanced himself from the group, which helped take down a key de Blasio rival in the mayor's race: "At the time of the contributions that you're talking about were made, I was no longer an officer of the union, so you'd have to direct your questions to somebody else," he said.
And Mr. Wilhelm was apparently surprised that the mayor trekked all the way to Atlantic City yesterday to attend the opening of a union health center being dedicated to Mr. Wilhelm's wife. "We didn't even know he would be here I until he walked in," Mr. Wilhelm reportedly said. "I didn't expect him to be here. Governing New York City is a heck of a job."
And here are some highlights from actor Alec Baldwin's Twitter account after he was taken into custody for cycling in the wrong direction: