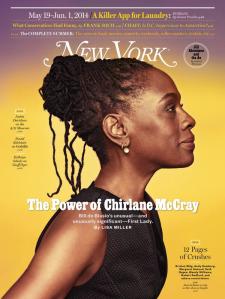 Headline of the Day: "De Blasio officiates marriage of his favorite barista."
New York magazine profiled Mayor Bill de Blasio's wife, Chirlane McCray, and her colossal influence on City Hall in an article running online with the title, "Chirlane McCray's City." On the pair's relationship, the magazine writes, "Staffers at City Hall call McCray the mayor's Mophie, after the iPhone case: One entirely covers the ­other; they are inseparable. She is his gut check, his sounding board."
On their unlikely union: "In the 1970s, when Bill and Chirlane came of age, it would have been very hard to imagine that a marriage to an African-­American feminist with radical activist politics and a queer past would have been anything but politically devastating for an ambitious white politician. But what's so remarkable about the de Blasio era is… that she is such an unambiguous asset, and with him a vision of a hopeful, hipster egalitarian future."
The New York Post  meanwhile, zeroed in on a passage in which Ms. McCray talked about her reaction to motherhood after her daughter Chiara was born: "I was 40 years old. I had a life. Especially with Chiara—will we feel guilt forever more? Of course, yes. But the truth is, I could not spend every day with her," she said. "I didn't want to do that. I looked for all kinds of reason not to do it. … It took a long time for me to get into 'I'm taking care of kids,' and what that means."

"New York City's first lady, Chirlane McCray, didn't much care for her new role as a mother after daughter Chiara was born — and looked for any excuse to keep away from her little girl," blared the tabloid. "In a startlingly frank confession, Mayor de Blasio's wife says she was unable to embrace motherhood and initially neglected Chiara, who last year dropped the bombshell that she was in treatment for abusing booze and pot. … The disclosure — bound to horrify most moms — shatters the carefully crafted image of de Blasio's close-knit family, which helped vault him into office."
Former City Comptroller John Liu will mount a challenge to State Senator Tony Avella, the Daily News reported. Mr. Liu, who lost his bid for mayor last year, is expected to announce his run later this morning against Mr. Avella, who angered party leaders when he joined a faction of breakaway Democrats who govern the Senate with Republicans. "This is John's reemergence," one source told the paper. "He sees it as an opportunity to contribute."
Meanwhile, longtime Brooklyn Assemblywoman Rhoda Jacobs will retire after 36 years in office, according to the Associated Press. Ms. Jacobs made the announcement yesterday and said she was proud of her record fighting for issues including health care, education, affordable housing and economic justice. She didn't specify the reasons for her retirement.
Former Senate Majority Leader Joseph Bruno, who was found not-guilty Friday on bribery-related corruption charges after a nearly decade-long battle, now wants the state to reimburse his legal bills, which could amount to as much as $4 million, according to the Post. "After what I've been through, with nine years of being investigated, nine years of the feds turning my life upside down, with one trial and another, with all the pain and suffering, I'm entitled under the law to recover my legal cost and I intend to do so," he told the paper.
Mr. de Blasio's administration is seeking $40 million in state funding to launch a new rental subsidy program to combat homelessness in New York City, the Wall Street Journal  eported. The program aims to serve 801 families–far fewer than the old Advantage rental assistance program, which served roughly 5,000 in its final year. "If we learned anything it is that when you go immediately at scale and you cover everything and everyone, there are a number of pitfalls," Deputy Mayor Lilliam Barrios-Paoli said.
In City & State, Gerson Borrero bemoaned the sidelining of Latinos at last week's Republican state convention. "There was no effort made by the state's GOP leaders for those few Latinos to be seen as part of their party. No pretense of inclusion. Not even minor roles in the convention proceedings. From the looks of this convention, Latinos appear to be asirrelevantes to the Republicans locally as they are nationally," he wrote.
But while he hit the party for the absence of a single Latino among its 62 county chairs, he reported the state's Democratic party is no better. "¡Que falta de respeto!" he railed. "That's right. In 2014, the party of Andrew Cuomo, Chuck Schumer, Hillary Rodham Clinton, Bill Clinton and the newly minted progressive pinup, Bill de Blasio, doesn't have a single Latino/a chairing any of their 62 county democratic organizations. This glaring omission from the spheres of influence of the Democratic Party apparatus is, quite frankly, even more offensive than that by the Republicans."