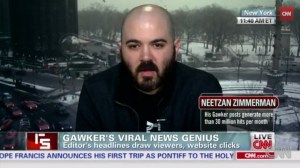 When a school bus hit and killed a pedestrian on the Upper East Side yesterday, Neetzan Zimmerman was on the scene.
Mr. Zimmerman, who made content go viral at Gawker until he left in January to become editor in chief of secret-sharing app Whisper, tweeted photos of the fatal collision. His tweets were promptly used by the New York Post, The Daily News, Gothamist and NYMag.com.
The tweeted photos ran in all four publications, and The News included a man-on-the-street reaction from "witness and app designer" Mr. Zimmerman. In one of the pictures, which ran in the News, a leg is visible beneath the bus. Mr. Zimmerman, recounted the experience for the newspaper: 
"There was a bus and a large truck right in front of a whole line of cars," said witness and app designer Neetzan Zimmerman, 32. "I noticed there was a leg sticking out from under the bus and realized it had run over someone."

That's when Zimmerman saw several scared children on the bus.

"That just makes it that much more horrific," Zimmerman said.