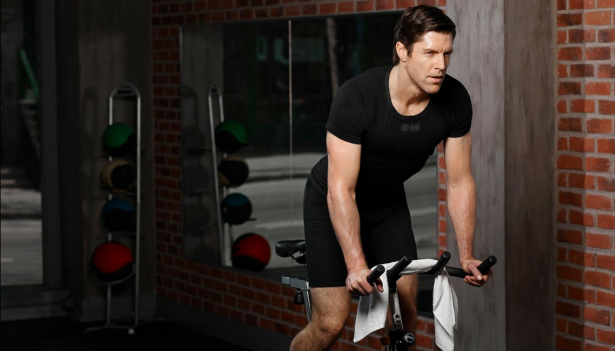 Companies that sell fitness tracking wristbands are having a hell of a time getting people to actually keep wearing them. Fitness tracking startup OMSignal thinks the way to get people to keep using the tech is to actually put the tracker in your clothing.
As of today, OMSignal is selling their new line of fitness tracking clothes, starting with a men's line. The collection includes long sleeve and short sleeve shirts, which you buy along with a small black tracking box. The box — which you have to attach to whatever clothing item you're wearing — is a tracking module that hooks up to the shirt and sends the biometric data to your phone via bluetooth.
Many of the popular fitness wearables on the market right now are wristbands and pendants — accessories that you strap on, as opposed to whole pieces of clothing. OMSignal CEO and cofounder Stéphane Marceau thinks textiles are easier for people to adapt to.
"Clothing is the ultimate wearable medium — you've been wearing clothes all your life," Mr. Marceau told Betabeat.
But if you have to clip on a tracking module to every shirt you wear, is that really so much easier than slipping on a Fitbit?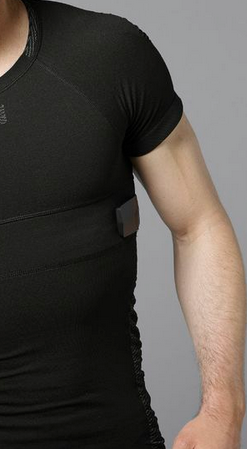 Regardless, OMSignal says their technology is much more sophisticated than any wristband or accessory. A Fitbit or Nike Fuelband with an accelerometer can track calories burned and distance travelled, but OMSignal shirts are covered with sensors that can tell you how deeply you're breathing, how you're bending your torso and give you a full EKG, apparently.
That level of detail in the data gives a more nuanced look at your overall health, which paves the way for a much deeper level of analysis.
"Wearables have mostly been about looking in the rear view mirror," Mr. Marceau says. "It's starting to be about looking sideways — looking at yourself against your friends. But the real potential is when wearables help you predict and look forward."
Mr. Marceau has a borderline utopian vision of the possibilities for personal health data — of "ubiquitous, live biological signal in the cloud, at scale." In plain English, that means a world where everyone's biological information is fed into a massive, networked database that could give us live insights about health in our society.
"Once you have the raw material, you have the opportunity for these kick-ass use cases," Mr. Marceau said. "You could predict epidemics at your children's school. You could get alerts from dependant parents in danger that tell you to intervene."
Mr. Marceau's idea of a happily networked world of people sharing their data is rosy, but there are companies that make biometric wearables who have less wholesome ideas for the market potential of health data. Fitbit, for example, is helping employers wire up their workers so they can monitor employee health and save on health insurance policies — it's the fastest growing part of Fitbit's business.
"It concerns me totally," Mr. Marceau said. "Computing technologies have done great things for the world, but there's plenty of bad shit going on. With every technology, society has to be wise in deploying it."
That's not to say OMSignal would never enter the business of marketing health data. Mr. Marceau's policy is to give the customer what they want, even if that means opening the door on personal health data so that profit-minded third parties can look in.
"We do see opportunities," Mr. Marceau said. "But the consumer has to be in the driving seat about how fast we go about this."