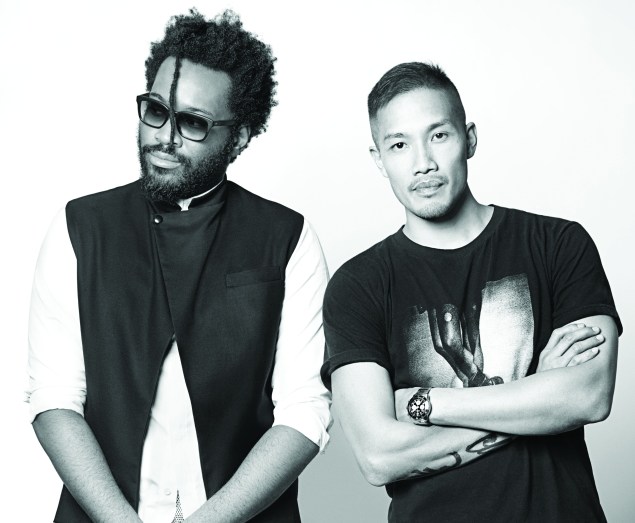 Dao-Yi Chow and Maxwell Osborne are keeping their heads down. Their six-year-old label Public School is poised to become one of the next major fashion brands. Taking a cue from the streets of New York, its urban-inspired menswear has been photographed on style-setters including Victor Cruz and Kendrick Lamar. Public School also won two CFDA awards last year. This fall, the label will debut a womenswear collection in an exclusive partnership with Barneys, whose buyers are globally revered for their skills at developing the next generation of money-spinning retail talent. Public School's designers, who met in 2003 while working at Sean John, are not blinded by the hype. "It's a lot of pressure," said Mr. Chow, 40. "We want to live up to the expectation."
Messrs. Chow and Osborne are just two designers hoping to become part of the future fashion establishment—the names that will shape the next generation of New York and global retail. Other designers such as Prabal Gurung, Joseph Altuzarra, Jason Wu, Wes Gordon, Suno's Erin Beatty and Max Osterweis are also working to gain first-name-only status over the next 10 years à la Marc, Michael, Donna and Calvin.
Yet it's a high leap up the next rung of the ladder.  One look at New York City's Tetris-like Fashion Week schedule is enough to make a buyer's head spin. "There is so much noise and so much product coming out of New York," said Tomoko Ogura, a senior fashion director at Barneys, which carries current fashion heavyweights like Alexander Wang, Proenza Schouler and Rag & Bone. "The challenge for us is to find collections by designers that feel distinct and unique."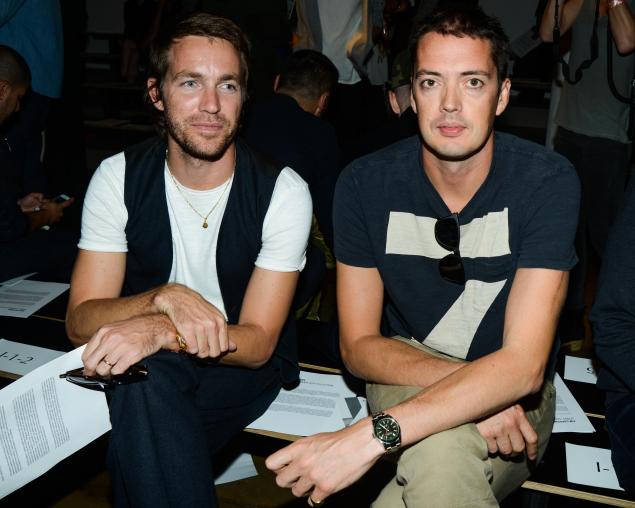 As if heightened competition weren't enough, lightning-fast delivery cycles and added seasons post new burdens on young designers. Over time, they're expected to build "lifestyle brands" with multiple product categories for maximum global reach. "At one time, you could be a talented dressmaker. And now it's about being a brand and understanding that to be successful in Asia, you need strong accessories; in the Middle East, you need fragrance," said Robert Burke, the chairman of Robert Burke Associates, a fashion brand consultancy.
ESTABLISHMENT
Marc Jacobs
Donna Karan
Michael Kors
Ralph Lauren
Vera Wang
Diane von Furstenberg

NEW LEADERS
Alexander Wang
Prabal Gurung
Proenza Schouler
Rag & Bone
Joseph Altuzarra
The Row

NEWCOMERS


Suno
Wes Gordon
Rosie Assoulin
Creatures of the Wind
Cushnie et Ochs
Public School
To navigate this rough terrain, designers are advised to treat fashion like a nuts and bolts business. Raw materials, manufacturing and logistics have to be worked out in advance—issues that have broken even the most brilliant businesses. Manufacturing in the U.S.A. is the most reliable but also the most expensive option.  Jenné Lombardo, a consultant and co-founder of MADE Fashion Week, finds that successful labels always have a business-minded person at the helm. "Every designer needs to find his or her 'Robert Duffy,'" said Ms. Lombardo, in a reference to Marc Jacobs' longtime business partner. Indeed, fashion designers today must be both right- and left-brained—to be able to hone their creative process yet understand how to create clothes that will sell.
In the wake of L'Wren Scott's death, hardly a word was written about her that didn't mention her failing fashion line. Like Christian Lacroix and Zac Posen before her, she created beautiful red carpet clothing but had a hard time keeping the brand afloat in retail. "Young designers probably would have been thrilled to have L'Wren Scott's business, as well as her visibility and position in the industry," said Fern Mallis, a fashion consultant who is credited with creating New York Fashion Week. "At the end of the day, it didn't work. If people aren't taking their credit cards out and buying, it doesn't matter how brilliant you are."
Messrs. Chow and Osborne aligned with strategic partner Alan Mak in 2012 to focus on the business side of their brand. In order to grow, their priorities include establishing fit, becoming a reliable source for retail partners and shipping on time. "We're doing everything we need to do in terms of becoming a established brand," Mr. Chow said.
Another designer on the path to New York fashion stardom is Wes Gordon. The 27-year-old sharpened his skills under Oscar de la Renta and is following suit by creating mature and refined ready-to-wear like cashmere sweaters, silk evening separates and luxurious outerwear. "It's important to me that my clothing isn't just going to hang in a store but that someone is going to walk past it, decide she can't live without it, take it home and wear it," said Mr. Gordon. "When you lose sight of that goal, it's problematic." Taking a page from the Michael Kors playbook, Mr. Gordon hops on a plane a few times a month to do a public appearance for Neiman Marcus or visit one of the smaller boutiques that stock his range, which is beneficial to his process. "To stand there and see a person try on a piece you design, to see what she likes, it's the greatest education," he said. "It's about having a connection and seeing where the clothing is going."
And any designer—young or old—would be remiss not to take advantage of social media as a way to gain exposure and communicate with consumers. Carly Cushnie, one half of the design duo of fledgling label Cushnie et Ochs, recalled how an Instagram photo posted in February of Jennifer Lopez in a black cut-out dress at an American Idol finalists party led the dress to sell out on Net-a-Porter immediately. "As much as we love celebrity dressing, we also love seeing real women in our clothing on social media and listening to what they want from us," said Ms. Cushnie.
Rosie Assoulin can't separate her success from Instagram. The 28-year-old designer launched her line last June and became an instant favorite among social media stars like Leandra Medine, a.k.a. the Man Repeller, and tastemaker Taylor Tomasi Hill. Soon after, designer boutiques like Capitol in Charlotte, N.C., and the Webster in Miami came calling. "Before, you had to come through the ranks in a certain way," said Ms. Assoulin, whose designs Lupita Nyong'o wore in the snapshot used to push the actress's 2014 World's Most Beautiful Woman Award in People. "Now, if your voice catches on right away through social media, it can be great for your business."
At the 2014 CFDA Fashion Awards on June 2, Public School will go up against Rag & Bone and Thom Browne for Menswear Designer of the Year. Rosie Assoulin and Wes Gordon will compete against Creatures of the Wind for the Swarovski Award for Womenswear.
Yet if the industry agrees on anything, it is the notion that all success traces back to the product. Whether it is the signature bias cut of Donna Karan or the beautifully still combination of color and fabric by Ashley and Mary Kate Olsen for The Row, the element that ultimately creates wantable fashion cannot be taught.
 "Many designers are hungry very quickly, but they need to develop a voice and keep it consistent over time," said Ms. Mallis. "They must continue to reinvent themselves but stay true to their aesthetic, and that's no easy task. That's why some soar and some plateau." To become part of the fashion establishment, young designers must stand for something that's uniquely their own, be able to fill a niche and build out a signature, recognizable look.