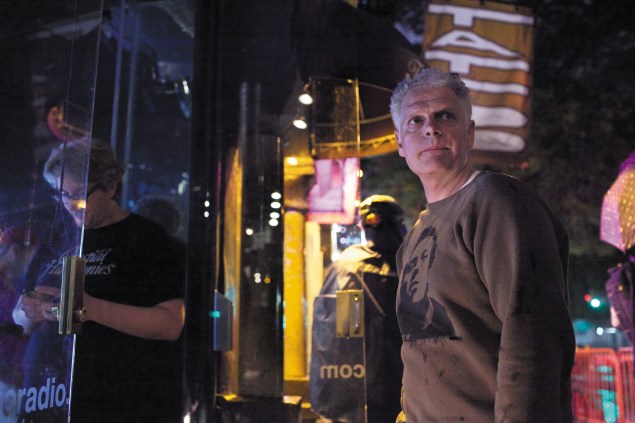 Last Friday evening, Peter Ferraro, the manager of East Village Radio, paced on First Avenue just north of East 1st Street, chain smoking, punching the keyboard of his smartphone and wearing a haunted look. He was dressed in blue jeans and an olive crewneck sweatshirt stenciled with a portrait of a young Joe Strummer at his most handsome and melancholic.
"So much of this neighborhood, so much of what happened here—it's been erased," he told the Observer. "We've been flying the flag for what gave the East Village its D.N.A. When CBGB went away, we thought: Could this be the thing that people look to?"
But maintaining the enterprise in the era of Spotify and Pandora had become unfeasible. In a few hours, the station Mr. Ferraro had run since 2008, drawing as many as one million listeners per month, would shutter. A crowd of a few dozen had gathered outside EVR's tiny, glass-walled studio and next door, at Lil' Frankie's restaurant, to bid the venture adieu. From 8 o'clock until midnight, two deejays would curate a soundtrack culled from requests filed online under the hashtag #EVRlastsong.
Pleas for the Clash, Iggy Pop, Lou Reed, Beastie Boys and Wu-Tang Clan had filled the station's Facebook and Twitter feeds. "Nobody asked to hear Nickelback," said Mr. Ferraro, who is 47. EVR's last dance would begin with the Ramones and close with Johnny Thunders.
Young deejays in studiously stylish sneakers passed in and out of the studio, drinking from bottles of Sierra Nevada. Inside, a silver laptop rested atop a pedestal, below which twin turntables spun slow, turquoise records. A storm was coming, and flash-flood warnings buzzed cell phones. Cigarette smoke breezed through the open front of the restaurant, where EVR affiliates mingled with well-coiffed young professionals.
"I lived on Avenue A from '90 to '94," Mr. Ferraro recalled. "It was still kind of dangerous. You used to see people running down the street with television sets. I have such fond memories of that neighborhood."
East Village Radio itself began with a bit of low-level freebooting. Frank Prisinzano, who owns Lil' Frankie's, launched the operation in 2003 as an FM-dial pirate station. Cease-and-desist letters followed a mention in The New York Times, and EVR shifted to a still-illegal but less-conspicuous podcast model. It was only after the arrival of Mr. Ferraro, who had met Mr. Prisinzano years earlier, bonding with him over a longstanding love of East Village culture, that EVR became a traditional—if Internet-only—radio station.
As rain came down in torrents, his acolytes sheltered at Lil' Frankie's. A bearded young man at the back bar calling himself Heavy Butter had discovered EVR through the southern hip-hop show Ballers Eve. The perpetually preppy and identically dressed duo AndrewAndrew told us that their Friday morning show, AndrewAndrew Sound Sound, had "taught us how to talk" between queuing tracks. Damian Genuardi, whose Peer Pressure show was heavy on classic punk, felt moved by a recent outpouring of support. "Doing a solo show, sometimes you feel very alone," he said. "And now, all these people are saying, 'I'm going to miss you.' And it's like, 'Wow, I didn't even know you were listening.'"
The restaurant had grown crowded and the night very dark. Outside, a father held low a large umbrella bearing the word "Freedom" over his young son, who was relieving himself at the curb. In the building's lee, Mr. Ferraro reasoned with a tall, soft-spoken deejay named Jon Oliver, the maestro of a Monday night program called The Main Ingredient.
Mr. Oliver's show had attracted potentially lucrative corporate interest, and Mr. Ferraro, whose tireless, modestly compensated devotion to EVR had once nearly seen his home into foreclosure, envisioned a bright future for him. He seemed concerned, though, that Mr. Oliver wouldn't seize the opportunity.
Rain dripped on the two men, and Mr. Ferraro became animated, neglecting his extinguished cigarette. But Mr. Oliver remained reticent, apparently unconvinced of his own appeal.
"There's a lot of people listening," Mr. Ferraro said finally, with the quiet passion of the assured believer. "All around the world. What you need to do is start at the beginning. And then you go backwards."