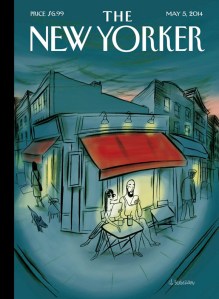 Publications with 'New York' in their name are going to Europe, and not to cover the new rave scene in Berlin or the Albanian Riviera or some other new-ish trans-Atlantic trend. It's the same old story. New Yorkers love writing about Paris.
This morning, New York magazine's fashion site, The Cut, announced that it will spend the next month extensively reporting on Paris.
"Bienvenue (and welcome!) to Paris in 30 Days, a monthlong look at everything that matters now in the French capital," the editors of The Cut posted earlier.
Over at The New York Times, Getaway columnist Stephanie Rosenbloom chronicled her trip to Paris, where as a solo traveler she was able to take part in the art of flânerie (who but the French could make aimless wandering a high art?). It sounded lovely.
Naturally, The New Yorker did not sit out the Parisian boomlet (although The New Yorker's former Paris correspondent Adam Gopnik wasn't involved). Last week's cover illustration shows a couple sitting side-by-side at an outdoor cafe, illuminated by the glow of their tablets in the twilight.
Is it New York? Is it Paris? Does it even matter?
"New York has infiltrated Paris, and vice versa," Charles Berberian, the Parisian cartoonist responsible for the cover said. "The ambience in the street, the way people dress. The stores are the same now in Brooklyn and in my neighborhood, the 10th arrondissement. Ideas, trends are communicated instantly."
This week's trend? New York writers writing about Paris.